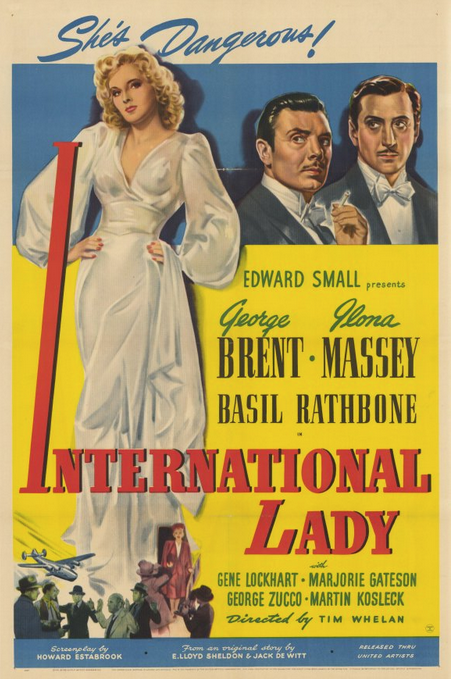 Introduction
In 1941, International Lady and The Maltese Falcon were released two days apart, on October 16 and October 18, respectively. Despite the first film being a spy noir and the second a crime noir, they share so many features that it is worth closely comparing them. For example, not only is there a spider woman in both films, but also she is a "soft" femme fatale, rather than a "hard" one.
Many if not most people with even a casual interest in film noir have seen The Maltese Falcon. However, even film noir buffs are unlikely to have watched International Lady. But it wasn't obscure in 1941. According to James Robert Parish and Michael R. Pitts, in The Great Spy Pictures, "A high grade "B" film, International Lady often got top-of-the-bill bookings when issued, due mainly to its stars, and the nifty supporting cast…." (238)
Since International Lady isn't currently available on a commercially released DVD, below is a summary of the plot in Hollywood War Films, 1937-1945 by Michael S. Shull and David Eward Wilt.
Carla Nilson (Ilona Massey), a singing Axis agent who claims to be a Norwegian refugee, leaves war-torn London to make contact with a gang of Nazi saboteurs and spies operating in New York City. Carla's songs are coded so that when she makes broadcasts for a chocolate manufacturer's radio show, the Germans are alerted to exactly when and where flights of American-built "Flying Fortresses" are departing for Britain. A Scotland Yard man (Basil Rathbone) and an FBI agent (George Brent) join forces to break up the gang of enemy agents, which includes a doctor perfecting a chemical additive which will sabotage the planes' engines. Carla changes her tune after falling in love with her handsome FBI nemesis. (127)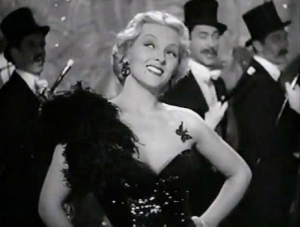 Presentation
Director: Tim Whelan. Screenplay: Howard Estabrook. Producer: Edward Small. Cinematographer: Hal Mohr. Music: Lucien Moraweck. Art Director: John DuCasse Schulze. Editor: William F. Claxton, Grant Whytock. Cast: George Brent (Tim Hanley), Ilona Massey (Carla Nillson), Basil Rathbone (Reggie Oliver), Gene Lockhart (Sidney Grenner), George Zucco (Webster), Francis Pierlot (Dr. Rowan), Martin Kosleck (Brunner), Charles D. Brown (Tetlow), Marjorie Gateson (Bertha Grenner), Gordon De Main (Denby). Released: Edward Small Productions, October 16, 1941 (US). 102 minutes.
The following themes are present in both International Lady and The Maltese Falcon.
Foreign Persons, Foreign Places and Foreign Threats
The characters as well as the locales that are represented in both films are international.
Ilona Massey's title character in International Lady has a passport from her "home, Norway." Agents from two countries, the UK and the US, are trying to obtain "direct evidence to arrest her" as a spy operating for an unnamed "enemy." That is, despite being released less than two months before Pearl Harbor, International Lady is an example of Hollywood's continued avoidance of referring to the Nazis by name. However, from the opening scene – a nighttime aerial bombing of London (from a combination of actual film footage and studio sets)  – we are supposed to understand that the enemy is Hitler's Germany.
The film's principal and secondary characters are shown in London, Lisbon, the US (New York, Sands Point, Utica), Canada, and Berlin.
Although the plot of The Maltese Falcon only occurs in San Francisco (and briefly in nearby Burlingame), it has been analyzed in terms of its international aspects. In Darkly Perfect World, Stanley Orr writes:
"Throughout Hammett's Continental Op stories and The Maltese Falcon (1929), San Francisco becomes an arena for dramas of colonial struggle and competition. Like Auguste Dupin and Sherlock Holmes, the Hammett detective confronts unruly exotics and corrupted colonials who threaten the integrity of the metropolis." (15)
"…The Maltese Falcon's Joel Cairo [is] an invasive alien who reads as an almost allegorical sign of the "Levant…Caspar Gutman in The Maltese Falcon [is] an adventurer who not only colludes with exotics Joel Cairo and Brigid O'Shaughnessy, but one who narrates a cynical historiography of colonial corruption [the background story of the falcon]." (41)
The geographical references in The Maltese Falcon include: Spain, Sicily, Paris, Greece, London, Russia, Istanbul, New York, Hong Kong, and of course Malta.
In his essay, "The Maltese Falcon, the Detective Genre, and Film Noir," William Luhr interprets the "foreign-ness" within the film as follows.
"The Maltese Falcon serves as a kind of baseline against which to measure [director John] Huston's later critique of American xenophobia; it also reflects widespread American cultural presumptions less than a month before its entry into World War II: In it, things from foreign lands are associated with evil, perversity, and death." (12)
Rings around Inestimably Valuable Objects
In The Maltese Falcon there are four seekers of what the private eye Sam Spade (Humphrey Bogart) calls "the stuff that dreams are made of" – a foot-high golden statuette of a falcon, encrusted all over with precious jewels. Spade has to deal with these characters who have been at times working together or at other times working against one another. For example, Caspar Gutman (Sidney Greenstreet) is working with Joel Cairo (Peter Lorre). When Greenstreet fills in Bogart about the history of the falcon and his quest for it, he says he had once sent "some agents," that is, Brigid O'Shaughnessy (Mary Astor) and Floyd Thursby (unseen), to obtain the falcon for him. But after they got hold of it, they kept it for themselves. On arriving in San Francisco, Thursby is murdered by Greenstreet's hired gunsel, Wilmer Cook (Elisha Cook Jr.).
International Lady also has a small ring involved with something of inestimable value. Gene Lockhart may have less girth than Greenstreet, but he, too, carries the most weight, literally and figuratively. Lockhart is the chocolate manufacturer who sponsors a radio show. His gunsel is George Zucco, who acts as Lockhart's butler but is also a colonel in the enemy's army. Francis Pierlot is a scientist responsible for creating the formula for the chemical additive.
When a fifth columnist in the US Air Force injects the additive into an airplane's fuel tank, it will break down the gasoline at a predetermined time. Once a plane is unable to continue flying, after a calculated interval following takeoff, it will have traveled too far over the ocean to be able to turn back. The chemical damage to the carburetor puts the plane out of commission until a new carburetor is received from the factory.
A Scotland Yard official explains to Rathbone and Brent the extreme danger the success of this sabotage poses to Great Britain. "Our fight and our future depend largely on the supply of planes coming to us from America. That takes precedence over anything…Planes are our lifeline, and the enemy isn't bothering with scruples in their endeavor to break it."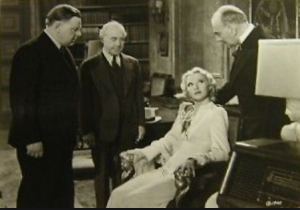 Gene Lockhart, Francis Pierlot and George Zucco with Ilona Massey.
Massey comes to the US to keep breaking that lifeline. In live broadcasts in different cities she sings and plays piano on Lockhart's radio shows. A very complicated code is embedded in Massey's musical score. Through her performances, the Germans are alerted to exactly when and where flights of American-built "Flying Fortresses" are departing for Britain. Then those planes get the additive.
Massey's performances must be broadcast very soon before "Flying Fortresses" are scheduled to depart from North America to Britain. Fifth columnists provide the planes' departure dates and times. The scientist Pierlot says, "Perfect coordination is essential. The chemical formula is very sensitive. The ingredients must be freshly prepared and used within a few hours."
Regarding the value of the falcon, Greenstreet tells Bogart, "There's no telling how high it could go, sir. That's the one and only truth about it." The analog to this in International Lady is the musical score. As long as the code is unbroken, the score is of supreme value to the enemy and of national peril to the UK.
Detectives and Mysteries
It goes without saying that in the role of Sam Spade, Humphrey Bogart plays one the most celebrated gumshoes in literature as well as cinema.
However, International Lady is also about detectives and solving mysteries. This makes the plot of International Lady atypical for a spy noir.
George Brent works for the FBI and Basil Rathbone for Scotland Yard. Bogart is a private eye, taking cases for people who come to his office; Brent and Rathbone are employees of public institutions, handling assignments given to them by their superiors. Bogart operates solo; Brent and Rathbone work with teams of colleagues. Just like a "classical" detective, Bogart, a hardboiled shamus, figures out a whodunit by ratiocination. In contrast to the cerebral methods of classical and as well as hardboiled private investigators, Brent and Rathbone utilize sophisticated technology to aid them in deciphering the code embedded in Massey's musical score.
"Soft" Femme Fatales
I agree with Julie Grossman, who writes in Rethinking the Femme Fatale in Film Noir:
"I also want to point out the extent to which very few 'femmes fatales' really fit the strict 'femme fatale' model of evil, opaque woman who 'cannot be humanized,' which explains why Phyllis Dietrichson [Barbara Stanwyck's character in Double Indemnity] becomes canonized as the prototype for the 'femme fatale'…In fact, as I am suggesting, most 'femme fatale' figures are distinctly humanized within the films, sometimes through plot and setting, sometimes through our awareness of the villainy of the male protagonist, and sometimes through the star text or the screen presence of the actress playing the lead female role." (47)
An example of the conception of the femme fatale as a static, unchangeable character is provided at the bottom of the home page About the Film Noir File website in a quote from film critic Sura Wood, "[T]he femme fatale [is] a woman who is as relentless as she is unsentimental. The iconic femme fatale is devastatingly beautiful, seductive and more driven by a lust for power than by passion." Wood refers to the femme fatale as "that staple of noir myth." What is actually mythical, as Grossman's book demonstrates, is Wood's conception of the femme fatale.
The phrase Grossman quotes, "cannot be humanized," comes from Foster Hirsch, in his book Detours and Lost Highways. Grossman says, "…Hirsch prescribes the original-cycle 'femme fatale' in a way that suggests, to me quite strangely, a desire or need to maintain the category of the destructive 'femme fatale' as fixed:
'…the immutable noir logic [is] that a 'femme fatale' cannot be humanized: see Barbara Stanwyck in Double Indemnity.'" (Rethinking the Femme Fatale in Film Noir, 47; and Detours and Lost Highways, 60)
Drawing on Grossman's discussion of the humanizing of a femme fatale in a film noir, I want to suggest two types of femme fatale: the soft and the hard. The distinction between them is based on the extent to which the soft is more humanized, and the hard is less so, if at all.
My criterion for the evidence of greater humanizing in the soft femme fatale is the depth and sincerity of her romantic feelings for a man, even one who is aware of and willing to have her arrested for her misdeeds. Of course, these misdeeds, as well as her seductive attraction to the man, are what make her a femme fatale.
In contrast, a hard femme fatale doesn't fall for the man who may threaten her freedom (from prison or execution), and she is duplicitous until the very end, which may be of her own life.
Below are examples of film noirs with a hard femme fatale, with the following information for each one: title, date, director, actress (the name of the femme fatale character).
Double Indemnity, 1944, Billy Wilder, Barbara Stanwyck (Phyllis Dietrichson)
Murder, My Sweet, 1944, Edward Dmytryk, Claire Trevor (Velma/Mrs. Grayle)
Ivy, 1947, Sam Wood, Joan Fontaine (Ivy Lexton)
Out of the Past, 1947, Jacques Tourneur, Jane Greer (Kathy Moffett)
The Paradine Case, 1947, Alfred Hitchcock, Alida Valli (Maddalena Anna Paradine)
Unlike Mary Astor, Ilona Massey plays an unproblematic soft femme fatale. Therefore, I want to consider Astor's Brigid O'Shaughnessy first.
In Dark City: The Film Noir, in addition to 490 thumbnail descriptions of film noirs from 1940-1959, Spencer Selby presents close analyses of 25 film noirs, the first of which is The Maltese Falcon. Selby carefully examines the "climatic confrontation" between Sam Spade and Brigid.
"By the time she does admit her crime [i.e., murdering Spade's partner, Miles Archer, played by Jerome Cowan], Spade seems to relish her fear: 'Yes, Angel, I'm gonna send you over. The chances are you'll get off with life. That means if you're a good girl, you'll be out in twenty years. I'll be waiting for you. If they hang you, I'll always remember you.' The ruthless irony with which Spade delivers these lines indicates anything but real sympathy for Brigid's plight. He truly seems to hate her at this point, and she responds with an accusation charged with its own kind of irony: 'You've been playing with me; just pretending you cared, to trap me like this. You don't care at all! You don't love me!' This comment could represent Spade's distrust as well as Brigid's. He replies that he won't 'play the sap' for her, and she desperately tries to argue the existence of their mutual love. Spade refuses to completely deny the love but maintains that other factors make it untenable.
"…He admits that some of the reasons for turning Brigid in may be unimportant, but still maintains that the risks of letting her go outweigh the possibility of mutual love. It seems fairly certain that Spade has a strong emotional feeling for her. The question is whether it could be called real love. Brigid maintains that love could never be outweighed by the factors Spade has outlined, and Spade has no reply for that one. The viewer is forced to agree with Brigid and admit that Spade refuses to let himself really love her because it is too dangerous." (10-11)
Is Brigid lying about her love for Spade, just to trick him into letting her go? Is Spade unnecessarily afraid of a future threat on his life that Brigid poses? (If he couples with her instead of sending her over, he frets that, "I couldn't be sure that you wouldn't put a hole in me one day.")
It is impossible to know the answers to these questions. In any event, the answers don't matter. Without any further exposition of the plot of The Maltese Falcon, Selby's examination of Spade and Brigid's confrontation is sufficient to demonstrate the significance of romance between the two characters. The sheer intensity of their grappling with whether they love one or another proves that Brigid is a soft femme fatale. No such pleading would ever be made by a hard femme fatale.
In contrast, evaluating what kind of femme fatale is Ilona Massey's Carla Nillson in International Lady is a piece of cake. (In fact, there is a wedding cake in her future.)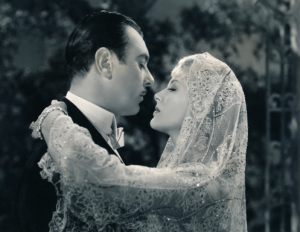 In the film, neither of Massey's two broadcasts directly causes any deaths. Following her first performance, a radio newsflash announces, " Two British cargo steamers were torpedoed and sunk by an enemy (i.e., not explicitly Nazi) submarine 700 miles out from New York. The crews are being rescued by an American liner." The steamers were transporting airplane parts. Also, the pilots, whose planes are sabotaged by the additive, land safely.
Nonetheless, Massey's work is impeding the supply of planes from America to Britain and, therefore, she is breaking what the Scotland Yard official calls, "our lifeline." This can only mean that, by weakening Britain's air strength to defend itself if not counter-attack, Massey is responsible for deaths in Britain.
At the start of the film, she enjoys her work. Although the bombing raid on London in the opening scene seems to have stopped, Brent still wants to escort Massey to an air raid shelter. Politely, she declines, "Thank you, but if it's all clear, I don't think it's necessary." He responds, "I think it's very necessary. Why we're apt to have another raid any moment." Her face lights up with pleasure, "Do you really think so?"
She already knows that Brent can help her get a US visa (because he has told her he has connections at the US Embassy), so she changes her mind and accompanies him to the shelter. She uses Brent, but she also seems attracted to him. Certainly, she doesn't want him harmed.
At Lockhart's mansion, when Brent is knocked out by a stun gun fired by Zucco, Massey reaches his body first and discovers his FBI badge. She hides it while Zucco searches Brent, and replaces it inside his jacket after Zucco goes away. The following day, once Brent has departed from the house (and therefore is safe), Massey tells the four men in her ring what she has learned.
Lockhart devises a plan in which Massey will set Brent up to be killed by Zucco. She doesn't embrace the scheme, but she acquiesces in carrying it out.
Massey is to get Brent to go to the roof garden at her hotel to watch the July 4th. fireworks, whose noise will drown out the sound of Zucco's gunshot from the roof of an opposite building. As Brent and Massey ride the elevator to the terrace, she is to make an excuse to get off to get a wrap, and then she will join him. Instead, she is to go to the lobby where she will be publicly seen making a train-reservation to leave New York (i.e., establishing an alibi).
Massey executes the plan, but while watching the clock come closer to the time when the fireworks will go off, she suddenly cancels the reservation, takes the elevator to the roof garden, and rushes to Brent to tell him that she knows who he really is. She urges him to leave the terrace.
She says, "You're in a trap. It's partly my making, but I can't undo it now."
He asks, "Who is in it with you?" Massey won't tell him, so he refuses to go.
"I know that I've fought you just as hard as you've fought me. But there's one thing I'll never understand. Why are you doing this?"
"I know you won't believe me. It's because…Oh, Tim! Because you mean everything to me. Please trust me."
The fireworks start. Massey sees Zucco on the other roof.
She cries, "Please let's go!"
Brent asks, "Is that the signal to spring the trap?"
"Yes!"
Massy steps around Brent and stands in front of him, and she is hit in her back by the bullet Zucco fires. Holding her in his arms, Brent says to her, "Oh, darling, I'm sorry. I understand everything now."
Brent has Massey rushed to a hospital for surgery and then he takes off by car in pursuit of the fleeing Zucco.
What follows is a lengthy scene, with some notably fine noir visual style, in which Brent and Rathbone capture Zucco and Pierlot and others at the site where the additive is made. The following day Brent and Rathbone visit Lockhart at his estate and arrest him.
Brent visits Massey at the hospital after her surgery.
He says, "I suppose they've told you."
She says, "That you've placed me under arrest? Yes, and I understand. You've done your duty. We're both soldiers. You won. That's all."
"Nobody wins this way. And one day when all this is over, it'll just be you and I."
"Yes, my darling, and if your work can bring peace, that's all I want."
"That's all this dizzy world wants."
As Brent and Massey kiss, Rathbone walks into her room to give her a bouquet of flowers and to express his sincere good wishes for her complete recovery.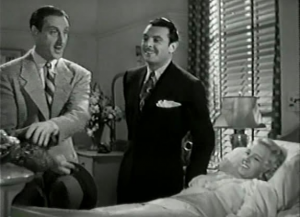 Brent sends Massey over, just as Bogart does to Astor. However, we can anticipate that Massey will only serve a short stretch, and then she and her arresting officer will get married. International Lady, therefore, features a quintessential soft femme fatale.
Mary Astor's Brigid O'Shaughnessy may be the original femme fatale in crime noir, but she is an anomaly, given the three-year gap between The Maltese Falcon and the advent of the femme fatale in crime noirs in 1944. In contrast, there are numerous femme fatales in spy noirs not only before 1944, but also before The Maltese Falcon.
Brigid is understandably soft because the era in which there were femme fatales in crime noirs had not yet begun. Only as of 1944, when the Allied victory over the Axis was imminent, would the historical context arise for the presentation of both hard and soft femme fatales in crime noirs. Concomitantly, that context would lead to the rapid disappearance of WWII spy noirs altogether.
In the immediate postwar years the demobilization of millions of men from the military and relocation of women from jobholders to homemakers were significant unsettling social conditions, which brought about the increasing appearance of femme fatales in crime noirs. Ultimately, the zenith year of the femme fatale in crime noir is when these male and female transitions are locked in place, 1947, but the new arrangements between the sexes — who goes to work and who minds the house — hadn't yet become "natural," either in America's society or its culture, such as movies.
Bibliography
Julie Grossman, Rethinking the Femme Fatale: Ready for Her Close-Up (Palgrave Macmillan, 2009)
Foster Hirsch, Detours and Lost Highways: A Map of Neo-Noir (Limelight Editions, 1999)
William Luhr, "The Maltese Falcon, the Detective Genre, and Film Noir" in William Luhr, (ed.), The Maltese Falcon. John Huston, director (Rutgers University Press, 1995)
Stanley Orr, Darkly Perfect World: Colonial Adventure, Postmodernism, and American Noir (The Ohio State University Press, 2010)
James Robert Parish and Michael R. Pitts, The Great Spy Pictures (The Scarecrow Press, Inc., 1974)
Spencer Selby, The Dark City: The Film Noir (McFarland, 1984)
Michael S. Shull and David Eward Wilt, Hollywood War Films, 1937-1945: An Exhaustive Filmography of American Feature-Length Motion Pictures Relating to World War II (McFarland & Company, Inc., Publishers, 1996)