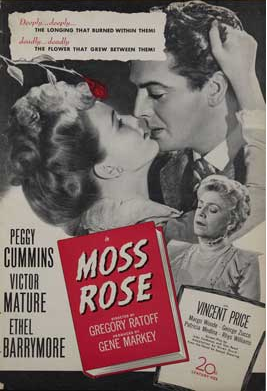 Director: Gregory Ratoff. Screenplay: Niven Busch, Jules Furthman, Tom Reed based on the novel The Crime of Laura Saurelle by Joseph Shearing. Producer: Gene Markey. Director of Photography: Joseph MacDonald. Music: David Buttolph. Art Directors: Richard Day, Mark-Lee Kirk. Editor: James B. Clark. Costume Designer: René Hubert. Cast: Peggy Cummins (Belle/Rose Adair), Victor Mature (Michael Drego), Ethel Barrymore (Lady Margaret), Vincent Price (Insp. Clinner), Margo Woode (Daisy Arrow), George Zucco (Craxton), Patricia Medina (Audrey Ashton), Rhys Williams (Evans). Released: Twentieth Century Fox, May 30, 1947. 82 minutes.
Plot Summary
Belle, born poor and now a music hall dancer, wants to be "a lady." She is also curious about the identity of the "gentleman" who is secretly dating her friend, Daisy. After she sees him rushing from Daisy's room, she finds Daisy dead, next to an open bible with a moss rose on it. She tracks down the man, Michael, and makes an unusual proposal. She won't help the police investigation if she can live like a lady for two weeks at his mansion. As part of her effort to change herself, she drops her stage name, Belle, and returns to her given name, Rose. At Charnleigh Manor, Rose makes Audrey, Michael's fiancée, jealous. Audrey is killed (bible and moss rose nearby), and Michael is detained. When his mother, Lady Margaret, discovers he has fallen for Rose, she tries to murder her. She is so embittered he grew up apart from her in Canada that she won't let another woman come between them. Michael gets home in time to save Rose, and they move to Toronto.
Commentary
The longstanding view of film noir as having a male subject, with the female relegated to being an object (obstacle or enigma) in relation to the male, is unlikely to remain dominant. New perspectives about women in film noir will have to emerge, if for no other reason than to assess leading female characters in movies that are now acknowledged as film noirs but once were defined as not film noir.
For example, film noir has been contrasted with "female gothic" (and related but not identical terms like "period film" and "gaslight melodrama"). The prime reason female gothic has been called different from film noir is its focus on a woman instead of a man. Moss Rose suggests one way the inclusion of women's film noirs (whether set in the gas-lit past or the atomic present) should lead to changes in the traditional description of film noir. From the start and throughout the film until the end, Rose narrates her story. Although the voice-over may generally be male, Moss Rose shows film noir doesn't preclude, due to any inherent conventions, female control of the story.
Yet Rose's narrative power doesn't mitigate the overall critique of strong women in Moss Rose. Lady Margaret represents the "momism" that Philip Wylie excoriated in his Generation of Vipers. Michael's father took him away from her when he was a child and raised him in Canada. She can neither forget nor forgive this. Every day since she has visited his room, which she has kept just as it was when he left, filled with his boyhood toys.
Momism refers to a mother who suffocates her son by overprotecting him and preventing him from maturing into a man. To keep Michael for herself, Lady Margaret smothers Daisy and tries to smother Rose. Lady Margaret's outcome is death. Belle's outcome is Rose.
The change in her name is part and parcel of her transformation from a working woman to a wife. Shorn of the displacements in the story (Edwardian poor girl who wants to learn how to be a lady), Moss Rose is in line with U.S. postwar current events: women exiting jobs they held for the duration and learning the ways of domesticity. Belle is feisty, clever and ambitious. But in realizing her dream of becoming ladylike, her strength in London shifts to weakness at Charnleigh Manor.
When Audrey stops by a village shop, Rose complains, "We'd better be getting back. Lady Margaret said, 'Not to be late.'" Rose wants to call the servants for help after a tree's shadow on the windowpane frightens her. Of course she significantly tones down her accent and demeanor. The noir style in Moss Rose parallels what happens to Belle/Rose. The strongest scenes in the style take place on London streets; and the weakest are at the mansion. After Belle becomes Rose, the noir style, like her luminescent personality, tends to vanish.