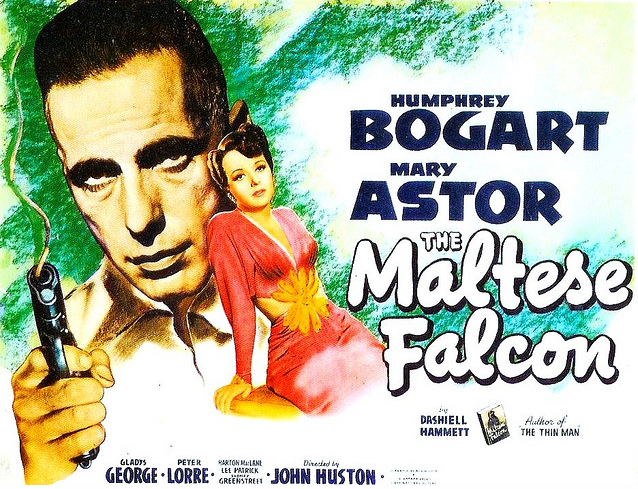 Introduction
In Film Noir: Reflections in a Dark Mirror (Columbus Books Limited, 1988), Bruce Crowther entitles his third chapter as "The Origins of Film Noir: Emigre and Other Directors." He says:
"The growth of fascism and the coming to power of Hitler generated tensions and fears in many areas of German life….Many film-makers felt compelled to leave Europe, among them several directors of considerable stature in their own land who were largely unknown to the rest of the world. They included William Dieterle, Fritz Lang, Otto Preminger, Robert Siodmak, Edgar G. Ulmer and Billy Wilder, all of whom made an impact on the development of film noir — notably Lang, Siodmak and Wilder." (39)
Similarly, Andrew Spicer, in Film Noir (Pearson Education Limited, 2002), has a subsection, "Émigrés," in his discussion of the "Cultural Influences" on film noir. He similarly says:
"The rise of Nazism and Hitler's assumption of power made in 1933 served to intensify an already established exodus [of "German film-makers"]. These émigrés included directors: William Dieterle, [Fritz] Lang, Otto Preminger, [Robert] Siodmak and the writer-director Billy Wilder; [and] cinematographers: John Alton, Karl Freund and Rudolph Maté…." (13)
The table below has 69 US crime noirs that are cited in at least one of the following reference books. These films were released from 1940-1944. (Because 1940 is the first year for American film noir in both books, no film noirs from the 1930s are included.)
Michael F. Keaney, Film Noir Guide: 745 Films of the Classic Era, 1940-1959 (McFarland & Company, Inc., 2003)
Spencer Selby, The Worldwide Film Noir Tradition (Sink Press, 2013)
For each film I have cited the author(s) who identify it as a film noir.
The table provides additional evidence that film noir didn't arise in the United States because of émigrés to America from France or Central Europe. With very few exceptions, the directors and cinematographers responsible for the development of US film noir were were born in America; or, if they were born elsewhere, their film careers were substantially if not entirely in the US.
Four additional tables show the predominance of native British and American directors and cinematographers, respectively, to spy noirs. See the pages under Spy Noirs and the Origins of Film Noir.
Here are two examples that show how I cite information about the directors and cinematographers.
Anatole Litvak (Ukraine; US career: 1937)
Anatole Litvak was born in the Ukraine (using today's name for his birth country) and his career in the US began in 1937.
William Wyler (France; US career)
William Wyler was born in France and his career was entirely in the US. 
When the literary source of a spy noir is a novel or a play, I only provide the title when it is different from the film's title.
The information in the table about each film's writer(s) shows how rarely a crime noir was adapted from a published hardboiled novel or story. Instead, stage plays or novels not associated with hardboiled fiction are more often the basis for crime noirs. Most frequently, crime noirs come from original screenplays or screenplays adapted from original, unpublished stories.
Presentation
| | | | | |
| --- | --- | --- | --- | --- |
| Date | Title | Director | Cinematographer | Writer(s) |
| 1940 | Angels over Broadway — Keaney — Selby | Ben Hecht (US) | Lee Garmes (US) | Ben Hecht (screenplay) |
| 1940 | City for Conquest — Keaney | Anatole Litvak (Ukraine; US career: 1937) | James Wong Howe (China; US career) | John Wexley (screenplay); Aben Kandel (novel) |
| 1940 | Double Alibi — Selby | Phil Rosen (US) | Woody Bredell (US) | Harold Buchman, Roy Chanslor & Charles Grayson (screenplay); Frederick C. Davis (story, "The Devil is Yellow") |
| 1940 | House Across the Bay — Selby | Archie Mayo (US) | Merritt Gerstadt (US) | Kathryn Scola (screenplay); Myles Connolly (story) |
| 1940 | The Letter — Keaney — Selby | William Wyler (France; US career) | Tony Gaudio (US) | Howard Koch (screenplay); W. Somerset Maugham (novel) |
| 1940 | Rebecca — Keaney — Selby | Alfred Hitchcock (Britain; US career: 1940) | George Barnes (US) | Robert E. Sherwood & Joan Harrison (screenplay); Daphne Du Maurier (novel) |
| 1940 | Stranger on the Third Floor — Keaney — Selby | Boris Ingster (Latvia; US career) | Nicholas Musuraca (US) | Frank Partos (screenplay & story) |
| 1940 | They Drive by Night — Keaney — Selby | Raoul Walsh (US) | Arthur Edeson (US) | Jerry Wald & Richard Macaulay (screenplay); A.I. Bezzerides (novel, Long Haul) |
| 1941 | Among the Living — Keaney — Selby | Stuart Heisler (US) | Theodor Sparkuhl (Germany; US career: 1928) | Lester Cole & Garrett Fort (screenplay); Brian Marlow & Lester Cole (story) |
| 1941 | Blues in the Night — Keaney — Selby | Anatole Litvak (Ukraine; US career: 1937) | Ernest Haller (US) | Robert Rossen (screenplay); Edwin Gilbert (play) |
| 1941 | Citizen Kane — Keaney | Orson Welles (US) | Gregg Toland (US) | Herman J. Mankiewicz & Orson Welles (screenplay) |
| 1941 | The Devil and Daniel Webster — Keaney — Selby | William Dieterle (Germany; US career: 1931) | Joe August (US) | Dan Totheroh & Stephen Vincent Benet (screenplay); Stephen Vincent Benet (story) |
| 1941 | The Face Behind the Mask — Selby | Robert Florey (France; US career) | Franz Planer (Czech Republic; US career: 1938) | Paul Jarrico & Allen Vincent (screenplay); Arthur Levinson (story); Thomas Edward O'Connel (play) |
| 1941 | Flight from Destiny — Selby | Vincent Sherman (US) | James Van Trees (US) | Barry Trivers (screenplay); Anthony Berkeley (story) |
| 1941 | High Sierra — Keaney — Selby |  Raoul Walsh (US) |  Tony Gaudio (Italy; US career: 1906) | John Huston & W.R. Burnett (screenplay); W.R. Burnett (novel) |
| 1941 | Highway West — Keaney — Selby | William McGann (US) | Ted McCord (US) | Allen Rivkin, Charles Kenyon & Kenneth Garnet (screenplay); George Abbott & Leon Abrams (play) |
| 1941 | I Wake Up Screaming — Keaney — Selby | H. Bruce Humberstone (US) | Edward Cronjager (US) | Dwight Taylor (screenplay); Steve Fisher (novel) |
| 1941 | Johnny Eager — Keaney — Selby | Mervyn LeRoy (US) | Harold Rosson (US) | John Lee Mahin & James Edward Grant (screenplay); James Edward Grant (story) |
| 1941 | Ladies in Retirement — Keaney — Selby | Charles Vidor (Hungary; US career) | George Barnes (US) | Garrett Fort & Reginald Denham (screenplay); Reginald Denham & Edward Percy (play) |
| 1941 | The Maltese Falcon — Keaney — Selby | John Huston (US) | Arthur Edeson (US) | John Huston (screenplay); Dashiell Hammett (novel) |
| 1941 | Rage in Heaven — Keaney — Selby | W. S. Van Dyke (US) | Oliver Marsh (US) & George Folsey [uncredited] (US) | Christopher Isherwood & Robert Thoeren (screenplay); Edward Chodorov (uncredited); James Hilton (novel) |
| 1941 | The Shanghai Gesture — Keaney — Selby | Joseph Von Sternberg (Austria; US career) | Paul Ivano (France; US career) | Josef von Sternberg, Geza Herczeg & Jules Furthman (screenplay); John Colton (play) |
| 1941 | Suspicion — Keaney — Selby | Alfred Hitchcock (Britain; US career: 1940) | Harry Stradling (US) | Samson Raphaelson, Joan Harrison & Alma Reville (screenplay); Anthony Berkeley, as Francis Iles (novel) |
| 1941 | A Woman's Face — Keaney — Selby | George Cukor (US) | Robert Planck (US) | Donald Ogden Stewart & Elliot Paul (screenplay); Francis de Croisset (play) |
| 1942 | The Big Shot — Selby | Lewis Seiler (US) | Sid Hickox (US) | Bertram Millhauser, Abem Finkel & Daniel Fuchs (screenplay) |
| 1942 | Cat People — Keaney — Selby | Jacques Tourneur (France; US career) | Nicholas Musuraca (US) | DeWitt Bodeen (screenplay) |
| 1942 | Crossroads — Keaney — Selby | Jack Conway (US) | Joseph Ruttenberg (Russia; US career) | Guy Trosper (screenplay); Frederick Kohner (uncredited); John H. Kafka & Howard Emmett Rogers (story) |
| 1942 | Fingers at the Window — Selby | Charles Lederer (US) | Harry Stradling (US) | Rose Caylor & Lawrence P. Bachmann (screenplay); Rose Caylor (story) |
| 1942 | A Gentleman After Dark — Selby | Edwin L. Marin (US) | Milton Krasner (US) | Patterson McNutt & George Bruce (screenplay); Richard Washburn Child (story) |
| 1942 | The Glass Key — Keaney — Selby | Stuart Heisler (US) | Theodor Sparkahl (Germany; US career: 1928) | Jonathan Latimer (screenplay); Dashiell Hammett (novel) |
| 1942 | Juke Girl — Selby | Curtis Bernhardt (Germany; US career: 1939) | Bert Glennon (US) | A.I. Bezzerides (screenplay); Theodore Pratt (story) |
| 1942 | Lady Gangster — Keaney | Robert Florey (France; US career) | Arthur Todd (US) | Anthony Coldeway (screenplay); Dorothy Mackaye & Carlton Miles (play) |
| 1942 | Moontide — Keaney — Selby | Archie Mayo (US) & (Fritz Lang [uncredited[ (Germany; US career: 1934) | Charles Clarke (US) | John O'Hara (screenplay); Willard Robertson (novel) |
| 1942 | Murder in the Big House — Selby | B. Reeves Eason (US) | Ted McCord (US) | Raymond L. Schrock (screenplay) |
| 1942 | Night in New Orleans — Selby | William Clemens (US) | Merritt Gerstadt (US) | Jonathan Latimer (screenplay); James R. Langham (novel, Sing a Song of Homicide) |
| 1942 | Sealed Lips — Keaney — Selby | George Waggner (US) | Stanley Cortez (US) | George Waggner (screenplay & story) |
| 1942 | Street of Chance — Keaney — Selby | Jack Hively (US) | Theodor Sparkuhl (Germany; US career: 1928) | Garrett Fort (screenplay); Cornell Woolrich (novel, The Black Curtain) |
| 1942 | A Tragedy at Midnight — Keaney | Joseph Santley (US) | Ernest Miller (US) | Isabel Dawn (screenplay); Hal Hudson & Sam Duncan (story) |
| 1943 | Calling Dr. Death — Selby | Reginald Le Borg (Austria; US career) | Virgil Miller (US) | Edward Dean (screenplay) |
| 1943 | Flesh and Fantasy — Keaney | Julien Duvivier (France; US career: 1938) | Stanley Cortez (US) | Ernest Pascal, Samuel Hoffenstein & Ellis St. Joseph (screenplay); Ellis St. Joseph, Oscar Wilde & László Vadnay (story) |
| 1943 | I Walked with a Zombie — Keaney — Selby | Jacques Tourneur (France; US career) | J. Roy Hunt (US) | Curt Siodmak & Ardel Wray (screenplay); Inez Wallace (story); Charlotte Brontë (novel, uncredited) |
| 1943 | The Leopard Man — Keaney — Selby | Jacques Tourneur (France; US career) | Robert DeGrasse (US) | Ardel Wray (screenplay); Cornell Woolrich (novel, Black Alibi) |
| 1943 | The Ox-Bow Incident — Keaney | William A. Wellman (US) | Arthur Miller (US) | Lamar Trotti (screenplay); Walter Van Tilburg Clark (novel) |
| 1943 | The Seventh Victim — Keaney — Selby | Mark Robson (Canada; US career) | Nicholas Musuraca (US) | Charles O'Neal & DeWitt Bodeen (screenplay) |
| 1943 | Shadow of a Doubt — Keaney — Selby | Alfred Hitchcock (Britain; US career: 1940) | Joseph Valentine (US) | Thornton Wilder, Sally Benson & Alma Reville (screenplay); Gordon McDonnell (story) |
| 1943 | Whispering Footsteps — Keaney — Selby | Howard Bretherton (US) | Jack Marta (US) | Dane Lussier & Gertrude Walker (screenplay); Gertrude Walker (story) |
| 1944 | Bluebeard — Keaney — Selby | Edgar G. Ulmer (Czech Republic; US career) | Jockey Feindell (US) & Eugen Shüfftan [uncredited] (Poland; US career) | Pierre Gendron (screenplay); Arnold Lipp, as Arnold Phillips, & Werner H. Furst (story) |
| 1944 | Christmas Holiday — Keaney — Selby | Robert Siodmak (Germany; US career: 1933) | John Fulton (US) | Herman J. Mankiewicz (screenplay); W. Somerset Maugham (novel) |
| 1944 | Curse of the Cat People — Keaney | Gunther Von Fritsch (Croatia; US career) & Robert Wise [uncredited] (US) | Nicholas Musuraca (US) | DeWitt Bodeen (screenplay) |
| 1944 | Dark Waters — Keaney — Selby | Andre de Toth (Hungary; US career: 1942) | Archie Stout (US) | Joan Harrison & Marian B. Cockrell (screenplay); John Huston (uncredited); Francis M. Cockrell & Marian B. Cockrell (story) |
| 1944 | Destiny — Keaney | Reginald Le Borg (Austria; US career) & Julien Duvivier [uncredited] (France; US career: 1938) | George Robinson (US) | Roy Chanslor & Ernest Pascal (screenplay) |
| 1944 | Double Indemnity — Keaney — Selby | Billy Wilder (Poland; US career: 1934) | John Seitz (US) | Billy Wilder & Raymond Chandler (screenplay); James M. Cain (novel) |
| 1944 | End of the Road — Selby | George Blair (England; US career) | William Bradford (US) | Denison Clift & Gertrude Walker (screenplay); Alva Johnston (magazine article) |
| 1944 | Experiment Perilous — Keaney — Selby | Jacques Tourneur (France; US career) | Tony Gaudio (Italy; US career) | Warren Duff (screenplay); Margaret Carpenter (novel) |
| 1944 | Gaslight — Keaney — Selby | George Cukor (US) | Joseph Ruttenberg (Russia; US career) | John Van Druten, Walter Reisch & John L. Balderston (screenplay); Patrick Hamilton (play) |
| 1944 | Guest in the House — Keaney — Selby | John Brahm (Germany; US career: 1937) | Lee Garmes (US) | Ketti Frings (screenplay); André De Toth (uncredited); Hagar Wilde & Dale Eunson (story) |
| 1944 | Lady in the Death House — Keaney — Selby | Steve Sekely (Hungary; US career: 1939) | Gus Peterson (US) | Harry O. Hoyt (screenplay); Frederick C. Davis (story, "Meet the Executioner") |
| 1944 | Laura — Keaney — Selby | Otto Preminger (Ukraine; US career) | Joseph LaShelle (US) | Jay Dratler, Samuel Hoffenstein & Elizabeth Reinhardt (screenplay); Vera Caspary (novel) |
| 1944 | The Lodger — Keaney — Selby | John Brahm (Germany; US career: 1937) | Nicholas Musuraca (US) | Barré Lyndon (screenplay); Marie Belloc Lowndes (novel) |
| 1944 | The Mark of the Whistler — Keaney — Selby | William Castle (US) | George Meehan (US) | George Bricker (screenplay); Cornell Woolrich (story) |
| 1944 | The Missing Juror — Keaney — Selby | Budd Boetticher (US) | L. W. O'Connell (US) | Charles O'Neal (screenplay); Leon Abrams & Richard Hill Wilkinson (story) |
| 1944 | Murder, My Sweet — Keaney — Selby | Edward Dmytryk (Canada; US career) | Harry Wild (US) | John Paxton (screenplay); Raymond Chandler (novel, Farewell, My Lovely) |
| 1944 | Phantom Lady — Keaney — Selby | Robert Siodmak (Germany; US career: 1933) | Woody Bredell (US) | Bernard C. Schoenfeld (screenplay); Cornell Woolrich, as William Irish (novel) |
| 1944 | Port of 40 Thieves — Selby | John English (England; US career) | Jack Marta (US) | Dane Lussier (screenplay & story) |
| 1944 | Strangers in the Night — Selby | Anthony Mann (US) | Reggie Lanning (US) | Bryant Ford & Paul Gangelin (screenplay); Philip MacDonald (story) |
| 1944 | The Suspect — Keaney — Selby | Robert Siodmak (Germany; US career: 1933) | Paul Ivano (France; US (career) | Bertram Millhauser (screenplay); James Ronald (novel) |
| 1944 | When Strangers Marry — Keaney — Selby | William Castle (US) | Ira Morgan (US) | Philip Yordan & Dennis J. Cooper (screenplay); George Moskov (story) |
| 1945 | The Whistler — Keaney — Selby | William Castle (US) | James S. Brown (US) | Eric Taylor & J. Donald Wilson (screenplay) |
| 1944 | The Woman in the Window — Keaney — Selby | Fritz Lang (Germany; US career: 1933) | Milton Krasner (US) | Nunnally Johnson (screenplay); J.H. Wallis (novel, Once Off Guard) |
Sources:
Internet Movie Database (www.imdb.com)
Michael F. Keaney, Film Noir Guide: 745 Films of the Classic Era, 1940-1959, McFarland & Company, Inc., 2003
Spencer Selby, The Worldwide Film Noir Tradition, Sink Press, 2013