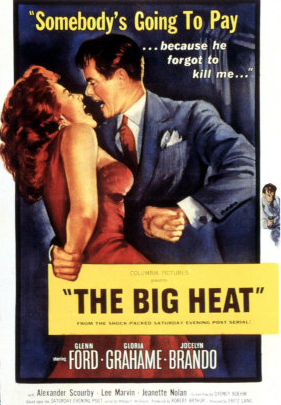 Introduction
The table below should be compared with the one in another page, Published Sources: Women's Noirs.
It shows the published sources, divided into five categories, of "men's" film noirs, from 1940-1949. (Men's film noirs based on original screenplays are not included in the table. Film noirs that were made twice from the same source are listed together.)
If the hardboiled paradigm were an accurate representation of film noir, then the published sources of men's noirs should vastly exceed those of women's noirs. But they do not.
Presentation
| | | | | |
| --- | --- | --- | --- | --- |
| Male Plays | Male Stories | Male Novels | Hardboiled Stories | Hardboiled Novels |
| All My Sons | Crime Wave | All the King's Men | The Bribe | The Asphalt Jungle |
| The Big Knife | The Crooked Way | The Breaking Point | The Brothers Rico | The Big Clock |
| Convicted | Dark City | Crossfire | Crack-Up | The Big Heat |
| The Dark Past | The Dark Corner | The Glass Web | Fall Guy | The Big Night |
| The Desperate Hours |  Gun Crazy | He Ran All the Way | Fear in the Night & Nighmare | The Big Sleep  |
| Detective Story | The Killer Is Loose | Hollow Triumph | The Guilty | Blood on the Moon |
| I Walk Alone | The Macomber Affair | House of Strangers | The Window | Born to Kill |
| Key Largo | The Naked Alibi | Human Desire |   | The Brasher Doubloo |
| The Racket | Night Editor | Johnny Angel |   | The Burglar |
| Rope | Pickup on South Street | The Lady from Shanghai |   | The Chase |
|   | Raw Deal | The Lost Weekend |   | City Across the River |
|   | Scene of the Crime | The Man with My Face |   | Confidential Agent |
|   |   | The Mob |   | Criss Cross |
|   |   | The Raging Tide |   | A Cry in the Night |
|   |   | Ruthless |   | Cry of the City |
|   |   | Scandal Sheet |   | Cry Tough |
|   |   | Storm Fear |   | Dark Passage |
|   |   | Sweet Smell of Success  |   | Double Indemnity |
|   |   | Two of a Kind |   | Force of Evil  |
|   |   | Where the Sidewalk Ends |   | The Gangster |
|   |   | While the City Sleeps |   | The Glass Key  |
|   |   | The Woman in the Window |   | Guilty Bystander |
|   |   | The Wrong Man |   | The Harder They Fall |
|   |   |   |   | High Sierra |
|   |   |   |   | I, the Jury |
|   |   |   |   | I Wake Up Screaming & Vicki |
|   |   |   |   | I Wouldn't Be in Your Shoes  |
|   |   |   |   | Journey Into Fear |
|   |   |   |   | The Killing |
|   |   |   |   | Kiss Me Deadly |
|   |   |   |   | Kiss of Death |
|   |   |   |   | Kiss the Blood Off My Hands |
|   |   |   |   | Kiss Tomorrow Goodbye |
|   |   |   |   | Knock on Any Door |
|   |   |   |   | The Lady in the Lake |
|   |   |   |   | The Lawless |
|   |   |   |   | The Long Wait |
|   |   |   |   | The Maltese Falcon |
|   |   |   |   | Man Hunt |
|   |   |   |   | The Mask of Dimitrios |
|   |   |   |   | Ministry of Fear |
|   |   |   |   | Murder, My Sweet |
|   |   |   |   | Night and the City |
|   |   |   |   | Nightfall |
|   |   |   |   | Nightmare Alley |
|   |   |   |   | Nobody Lives Forever |
|   |   |   |   | Odds Against Tomorrow |
|   |   |   |   | Out of the Past |
|   |   |   |   | People Against O'Hara |
|   |   |   |   | The Postman Always Rings Twice |
|   |   |   |   | Pushover |
|   |   |   |   | Ride the Pink Horse |
|   |   |   |   | Rogue Cop |
|   |   |   |   | Screaming Mimi |
|   |   |   |   | Shield for Murder |
|   |   |   |   | Slightly Scarlet |
|   |   |   |   | Slightly Scarlet |
|   |   |   |   | They Drive by Night |
|   |   |   |   | They Live by Night |
|   |   |   |   | Thieves Highway |
|   |   |   |   | This Gun for Hire & Shortcut to Hell |
|   |   |   |   | Touch of Evil |
|   |   |   |   | Try and Get Me |
|   |   |   |   | Union Station |
Sources for film noirs and published sources:
Robert Ottoson, A Reference Guide to the American Film Noir: 1940-1958 (The Scarecrow Press, 1981)
Spencer Selby, Dark City: The Film Noir (McFarland & Company, Inc., 1984)
Alain Silver and Elizabeth Ward, editors, Film Noir: An Encyclopedic Reference to the American Style (The Overlook Press, 1992, Third Edition)
Michael L. Stephens, Film Noir: A Comprehensive, Illustrated Reference to Movies, Terms and Persons (McFarland & Company, Inc., 1995)