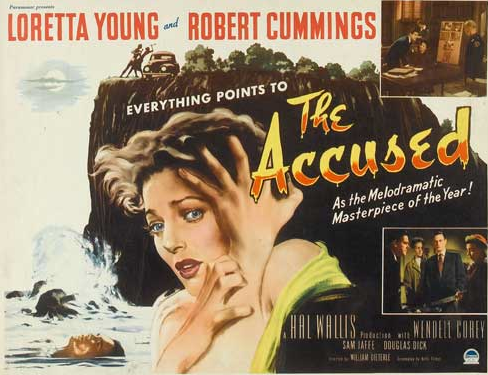 Introduction
The table below should be compared with the one in another page, Published Sources: Men's Noirs.
It shows the published sources, divided into three categories, of "women's" film noirs, from 1940-1949. (Women's film noirs based on original screenplays are not included in the table. Film noirs that were made twice from the same source are listed together.)
If the hardboiled paradigm were an accurate representation of film noir, then the published sources of women's noirs should be far fewer than those of men's noirs. But they are not.
Presentation
| | | |
| --- | --- | --- |
| Female Plays | Female Stories | Female Novels |
| Another Man's Poison | The Blue Gardenia | The Accused |
| | | Accused of Murder |
| | | An Act of Murder |
| Beware, My Lovely | The Damned Don't Cry | Beyond the Forest |
| Clash By Night | Danger Signal | Black Angel |
| Deception | Dark Waters | Born to Be Bad |
| Escape | Love from a Stranger | Caught |
| Female on the Beach | Possessed | Chicago Deadline |
| Flamingo Road | The Reckless Moment | Christmas Holiday |
| Gaslight | The Scarf | Cry Wolf |
| Guest in the House | Secret Beyond the Door | Daisy Kenyon |
| Hangover Square | Shadow on the Wall | Deadline at Dawn |
| High Wall | Strangers in the Night | Deep Valley |
| I Confess | Talk About a Stranger | Don't Bother to Knock |
| Ladies in Retirement | Two O'Clock Courage | Dragonwyck |
| A Place in the Sun  | Undercurrent | Edge of Doom |
| The Shanghai Gesture | Woman on the Run | Experiment Perilous |
| Sorry, Wrong Number |   | Fallen Angel |
| The Strange Affair of Uncle Harry |   | The Fallen Sparrow |
| Tight Spot |   | House by the River |
| The Two Mrs. Carrolls |   | House on Telegraph Hill |
| A Woman's Face |   | In a Lonely Place |
|   |   | Ivy |
|   |   | A Kiss Before Dying |
|   |   | Larceny |
|   |   | Laura |
|   |   | Leave Her to Heaven |
|   |   | The Letter |
|   |   | Lightening Strikes Twice |
| | | The Lodger & The Man in the Attic |
|   |   | The Lost Moment |
|   |   | The Man I Love |
|   |   | Manhandled |
|   |   | Mildred Pierce |
|   |   | Moonrise |
|   |   | Moontide |
|   |   | Moss Rose |
| | | My Cousin Rachel |
|   |   | My Name is Julia Ross |
|   |   | The Night Has a Thousand Eyes |
|   |   | No Man of Her Own |
|   |   | Night of the Hunter |
|   |   | On Dangerous Ground |
|   |   | The Parradine Case |
|   |   | Phantom Lady |
|   |   | The Pitfall |
|   |   | Queen Bee |
|   |   | Rage in Heaven |
|   |   | Rebecca |
|   |   | The Red House |
|   |   | Scarlet Street |
|   |   | Shed No Tears |
|   |   | The Sign of the Ram |
|   |   | Sleep, My Love |
|   |   | The Sleeping Tiger |
|   |   | So Evil My Love |
|   |   | Spellbound |
|   |   | The Spiral Staircase |
|   |   | The Strange Woman |
|   |   | Strangers on a Train |
|   |   | Street of Chance |
|   |   | The Suspect |
|   |   | Suspicion |
|   |   | Temptation |
|   |   | Too Late for Tears |
|   |   | The Unseen |
|   |   | The Unsuspected |
|   |   | The Verdict |
|   |   | Vertigo |
|   |   | Whirlpool |
|   |   | Whistle Stop |
|   |   | Woman in Hiding |
|   |   | The Woman in White |
|   |   | A Woman's Secret |
Sources for film noirs and published sources:
Robert Ottoson, A Reference Guide to the American Film Noir: 1940-1958 (The Scarecrow Press, 1981)
Spencer Selby, Dark City: The Film Noir (McFarland & Company, Inc., 1984)
Alain Silver and Elizabeth Ward, editors, Film Noir: An Encyclopedic Reference to the American Style (The Overlook Press, 1992, Third Edition)
Michael L. Stephens, Film Noir: A Comprehensive, Illustrated Reference to Movies, Terms and Persons (McFarland & Company, Inc., 1995)