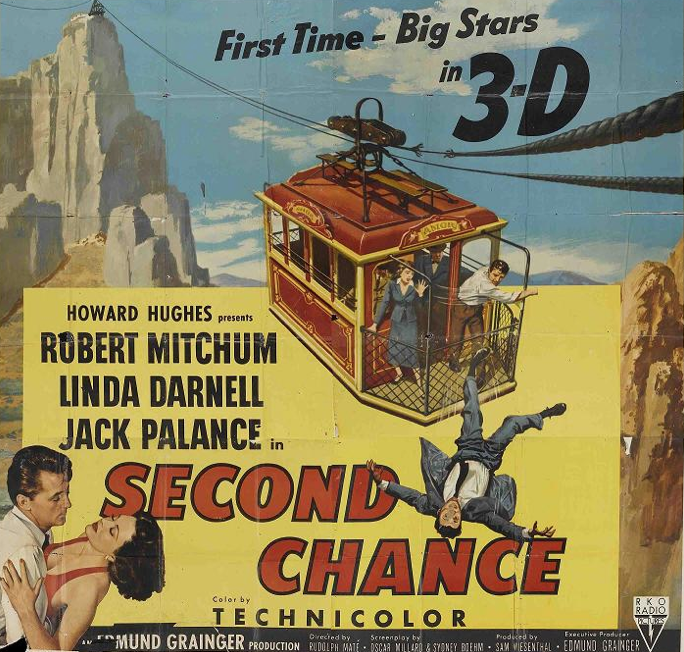 Director: Rudolph Maté. Screenplay: Sydney Boehm, D.M. Marshman Jr., Oscar Millard, Robert Presnell Jr. Producer: Sam Wiesenthal, Howard Hughes (uncredited). Executive Producer: Edmund Grainger. Director of Photography: William E. Synder. Music: Roy Webb. Art Directors: Carroll Clark, Albert S. D'Agostino. Editors: Robert Ford, Albrecht Joseph. Costume Designer: Michael Woulfe. Cast: Robert Mitchum (Russ Lambert), Linda Darnell (Clare Sheppard, alias Clare Sinclair), Jack Palance (Cappy Gordon), Roy Roberts (Charley Malloy), Dan Seymour (Felipe), Fortunio Bonanova (Mandy, hotel owner), Sandro Giglio (Cable Car Conductor), Reginald Sheffield (Mr. Woburn, English tourist), Margaret Brewster (Mrs. Woburn, English tourist), Rodolfo Hoyos, Jr. (Vasco, murderous husband), Richard Vera (Pablo, Vasco's son), Maurice Jara (Fernando, groom), Judy Walsh (Maria, bride), Salvador Baguez (Officer Hernandez), Milburn Stone (Edward Dawson), Abel Fernandez (Rivera, the fighter), Martin Garralaga (Don Pascual, man with phone), Virginia Linden (Seductress in Bar). Released: RKO, July 18, 1953. 82 minutes.
Plot Summary
Clare was once the girlfriend of a gangster, Vic Spoleto. Now she is willing to turn state's evidence against him before a Senate "Crime Commission." To prevent her from testifying, Vic has sent Cappy to find her and kill her. Clare has fled to a Mexican town, where she has met Russ, a prize-fighter who is trying to revive his career. Russ and Clare take an aerial cable car to a village atop a mountain. When they arrive in the evening, they are strangers. By the next morning, they are lovers. But Cappy is there, too. The three of them and other passengers are on the return ride when a cable snaps. The car is stuck, and the remaining cable is going to break soon. Russ manages to jump to a nearby cliff and climb up to the tram station. He comes back to the rescue in a small freight car. Cappy tries to hijack the car so that only he and Clare will survive. Russ fights Cappy on top of the cable car and knocks him off it. Russ, Clare and the other passengers get away in the freight car just before the cable car follows Cappy in a free-fall down to earth.
Commentary
In the 1950s a new kind woman in distress appears in film noir. Her life is endangered because she can testify against a mobster. The historical context was the Special Committee on Organized Crime in Interstate Commerce, known as the Kefauver Committee, after its original chair, Tennessee Democratic Senator Estes Kefauver. The hearings lasted from May 1950 until September 1951. Although they weren't the first to be televised, they were the first to have a large TV audience.
Other film noirs, which are about exposés of racketeering and crack-downs on crime syndicates, are also drawn from the repercussions of the Kefauver Committee. In The Enforcer, The Narrow Margin and Tight Spot, for example, the woman in distress is a target of assassination to keep her off the witness stand.
Second Chance goes against the grain because the hit man, Cappy, is madly in love with Clare. He promises not to kill her or Russ if she runs away with him. On top of the mountain, she agrees so that she can save Russ. But the bargain is nothing more than a different kind of contract on her life. In a scene without speech or voice-over, Clare is by herself on the platform of a cable car station. Apparently, she decides living with Cappy would be a fate worse than death. She opens a gate on the platform. She is about to step out into the abyss when Cappy suddenly appears, thwarting her suicide.
However, unlike other woman in distress films, Clare isn't the most noir character. Instead, it is Cappy. At the beginning of the film, he talks with Edward, someone else Vic wants shot. Edward has recently seen Clare in the town where she is hiding. Cappy asks him how she looked. Edward replies, "She's a pretty girl." Cappy explodes, "Any man who thinks she's just a pretty girl hasn't got eyes in his head."
After Cappy tracks Clare down, he chases her through the streets of the town. When he catches up to her, she thinks he is going to kill her. But he holds her tightly and says, "Why didn't you come to me when you ran away from Vic? You never even knew I was around. Vic Spoleto's bodyguard. Vic's stooge. That's all I ever meant to you!" Clare is appalled.
The plot in Second Chance might be stronger if the tension between Cappy and Clare played out more. The cable car crisis is no substitute for the lack of suspense within the romantic triangle. Perhaps the noir style might be in the film if it hadn't been released in 3-D. In any event, there is neither expressionist camerawork nor chiaroscuro, which are in other color film noirs.