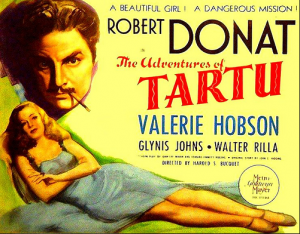 Introduction
The table below has 20 UK spy noirs that I have identified. These films were released during the classic period of spy noir.
The information in the table about each film's director and cinematographer complements the page Noir Style: Natives – Not Émigrés.
The table provides additional evidence that film noir didn't arise in Britain because of émigrés from France or Central Europe. With very few exceptions, the directors and cinematographers responsible for the development of UK film noir were were born in Britain; or, if they were born elsewhere, their film careers were substantially if not entirely in the UK.
Here are two examples that show how I cite information about the directors and cinematographers.
Otto Heller (Czech Republic; UK career: 1940)
Otto Heller was born in the Czech Republic (using today's name for his birth country), and his career in the UK began in 1940.
Edward Dmytryk (Canada; US career)
Edward Dmytryk was born in Canada, and his career was entirely in the US.
When the literary source of a spy noir is a novel or a play, I only provide the title when it is different from the film's title.
The information in the table about each film's writer(s) shows how rarely a spy noir was adapted from an espionage novel (e.g., by Eric Ambler or Graham Greene). Instead, stage plays or novels not associated with espionage literature are more often the basis for spy noirs. Most frequently, spy noirs come from original screenplays or screenplays adapted from original, unpublished stories.
Therefore, contrary to the suggestions of James Naremore (Nothing More Than Night: Film Noir and Its Contexts) and Jon Tuska (Dark Cinema: American Film Noir in Cultural Perspective), spy noirs aren't derived from spy novels. The table shows the independence of spy noirs from spy novels. For my critique of Naremore and Tuska, see the sections "Full Recognition of America's Forgotten Ally" and "Postscript," respectively, in the page Spy Noirs & the Origins of Film Noir.
Presentation
Date

Title

Director

Cinematographer

 Writer(s)
 1935

The Crouching Beast
 Victor Hanbury (UK)
James Wilson (UK)
 

L. du Garde Peach (screenplay); Valentine Williams (novel)

1935

The 39 Steps
Alfred Hitchcock (UK)
Bernard Knowles (UK)
Charles Bennett (screenplay); John Buchan (novel)

1936

Secret Agent
Alfred Hitchcock (UK)
Bernard Knowles (UK)
Charles Bennett (screenplay); Campbell Dixon (play); W. Somerst Maugham (novel, Ashenden)

1936

The Secret of Stamboul [The Spy in White]
Andrew Marton (Austria-Hungary); UK career: 1929
Henry Harris (UK); UK career
Richard Wainwright (screenplay); Dennis Wheatley & George A. Hill (novel, The Eunuch of Stamboul); Howard Irving Young, Laslo Benedek & Andrew Marton (adaptation)

1937

I Married a Spy [Secret Lives]
Edmond T. Gréville (France)
Otto Heller (Czech Republic; UK career: 1940)

Edmond T. Gréville, Basil Mason & Hugh Perceval

(screenplay); Paul de Sainte Colombe (novel)

1937

Under Secret Orders
Edmond T. Gréville (France)
Alfred Black (UK)
Ernest Betts, Jacques Natanson & Marcel Archard (screenplay); Irmgard von Cube & Georges Hereaux (story)

1939

The Four Just Men [The Secret Four]
Walter Forde (UK)
Ronald Neame (UK)
Angus MacPhail, Sergei Nolbandov, Roland Pertwee (screenplay); Edgar Wallace (novel)

1940

Pastor Hall
Roy Boulting (UK)
Mutz Greenbaum (Germany; UK career: 1931)
Leslie Arliss, Anna Reiner & Haworth Bromley (screenplay); Ernst Toller (story)

1940

Spies of the Air
David MacDonald (UK)
Bryan Langley (UK)
Bridget Boland & A.R. Rowlandson (screenplay); Jeffrey Dell (play, Official Secret)

1941

Freedom Radio [A Voice in the Night]
Anthony Asquith (UK)
Bernard Knowles (UK)
Jeffrey Dell, Basil Woon & Anatole de Grunwald (screenplay); Louis Golding & Gordon Wellsley (story)

1943

Adventures of Tartu [Sabotage Agent]
Harold S. Bucquet (UK)
Jack E. Cox (UK)

John Lee Mahin

& 

Howard Emmett Rogers

(screenplay); John C. Higgins (story)

1943

The Silver Fleet
Vernon Sewill (UK) & Gordon Wellesley (Australia; UK career)
Erwin Hiller (Germany; UK career)
Vernon Sewell & Gordon Wellsley (screenplay); Emeric Pressburger (story, "Remember Jan de Wit")

1943

Tomorrow We Live [At Dawn We Die]
George King (UK)
Otto Heller (Czech Republic; UK career: 1940)
Bart Lytton (screenplay & story)

1943

Undercover
Sergei Nolbandov (UK)
Wilkie Cooper (UK)
Monja Danischewsky & John Dighton (screenplay); George Slocombe (story)

1943

Warn That Man
Lawrence Huntington (UK)
Gunther Krampf (Austria; UK career: 1931)
Vernon Sylvaine (play & screenplay)

1944

Candlelight in Algeria
George King (UK)
Otto Heller (Czech Republic; UK career: 1940)

Brock Williams

  & 

Katherine Strueby

(screenplay); Dorothy Hope (story)

1944

Mr. Emmanuel
Harold French (UK)
Otto Heller (Czech Republic; UK career: 1940)
Louis Golding (novel & screenplay)

1945

The Man from Morocco
Max Greene [Mutz Greenbaum] (Germany; UK career: early 30s)
Basil Emmott (UK) & Geoffrey Faithful (UK)
Edward Dryhurst, Margaret Steen & Warwick Ward (screenplay); Rudolph Cartier (story)

1945

Meet Sexton Blake!
John Harlow (UK)
Geoffrey Faithful (UK)
John Harlow (screenplay)

1946

Lisbon Story
Paul L. Stein (Austria; US, UK career: 1926)
Gerald Moss (UK) & Ernest Palmer (UK)
Jack Whittingham (screenplay); Harry Parr-Davies & Harold Purcell (play with music)