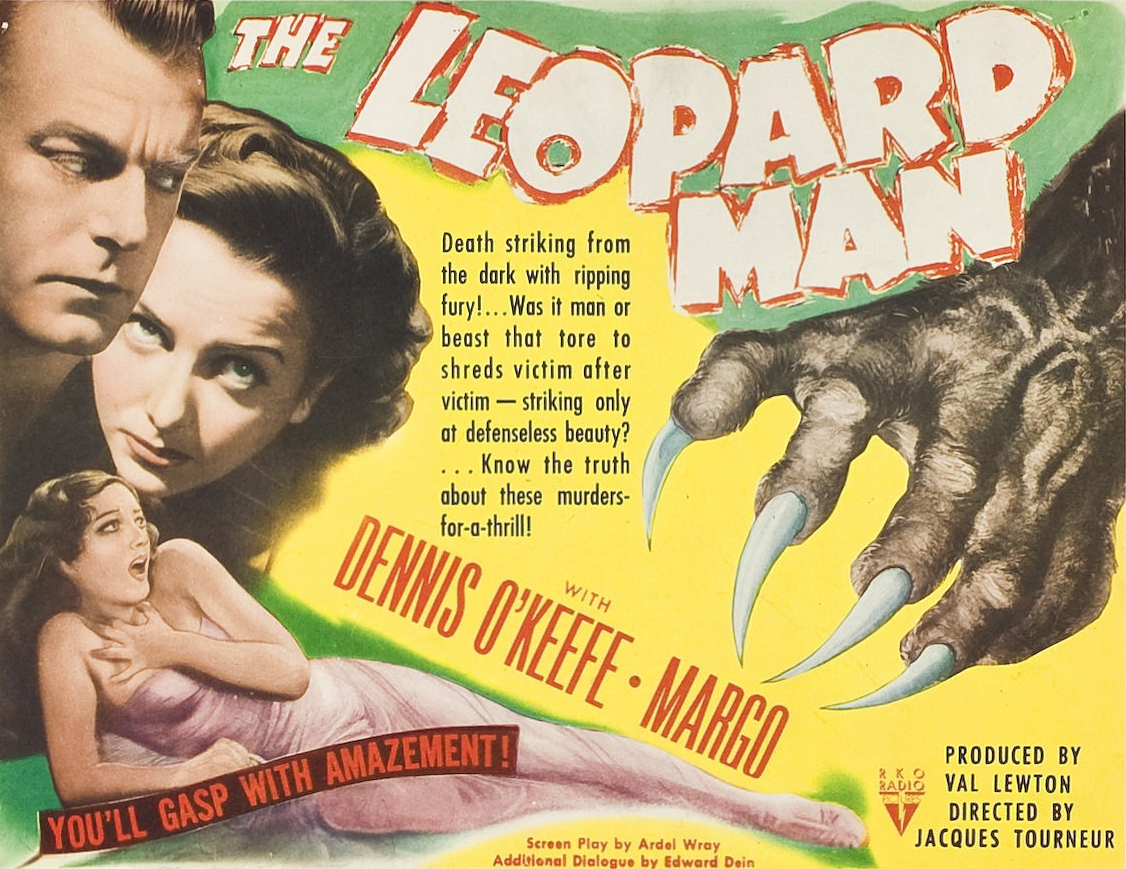 Introduction
The following is my response to Elliot Lavine's analysis of The Leopard Man, which he posted on December 14, 2009, on the website The Blackboard. (The post is no longer available.) Elliot has regularly hosted some of the most interesting and important film noir series at the Roxie Theater in San Francisco, where he is the Director of Repertory Programming. In 2010 the "Marlon Riggs Award" was bestowed upon him by the San Francisco Film Critics' Circle for his "two decades of film programming, his revival of rare archival and independent titles and his role in the renewed popularity of film noir and pre-Production Code features." He also teaches courses for Stanford University's Continuing Studies Program.
Presentation
Director: Jacques Tourner. Screenplay: Adel Wray based on the novel, Black Alibi, by Cornell Woolrich. Producer: Val Lewton. Cinematographer: Robert DeGrasse. Music: Roy Webb. Art Directors: Albert S. D'Agostino, Walter E. Keller. Editor: Mark Robson. Cast: Dennis O'Keefe (Jerry Manning), Margo (Ci0-Cio), Jean Brooks (Kiki Walker), James Bell (Dr. Galbraith). Released: RKO Radio Pictures, May 8, 1943. 66 minutes.
The follow plot summary comes from Michael F. Keaney's Film Noir Guide: 745 Films of the Classic Era, 1940-1959, McFarland & Company, Inc., 2003).
"[I]t's about a series of killings, supposedly by an escaped leopard, in a small New Mexico town. (The leopard had been part of a selfish publicity stunt by nightclub dancer Brooks and her agent [O'Keefe] to overshadow a performance by rival performer Margo. When Margo frightened the leopard with her castanets, it escaped into the night killing a teenage girl.) But O'Keefe and Brooks are convinced that the next two victims have been torn apart by a more dangerous predator – a psychopathic killer. Unable to persuade the local police department and its civilian adviser (Bell), the two investigate on their own." (252)
At the beginning of his Noir Of The Week, Elliot Lavine characterizes The Leopard Man as "film noir to its very core, carrying with it the customary load of unbridled cynicism and the fabled fatalism that typifies this film style. And although the events that unfold in the story are indeed horrific, its style and thematic content place it squarely at the center of the noir universe."
Elliot presents a detailed description of what happens in the film. His last sentences are, "Raoul [the boyfriend of one of the Leopard Man's victims] pulls out a gun and fires at Galbraith [the Leopard Man], killing him instantly. The Leopard Man is a film of unrelenting sadness made by people who clearly understood the true meaning of Cornell Woolrich's demented poetry. For these people are the damned, the doomed, and the eternally forlorn; the perpetual inhabitants of the world of noir."
My intent isn't to claim that The Leopard Man cannot be called a film noir. What I want to show is that Elliot's characterizations about the film, such as its "cynicism" and "fatalism," only pertain to the "thematic content" of the film in order to be rejected. The rejection of "cynicism" and "fatalism" occurs in a scene Elliot leaves out, which is the final scene of the film, after Raoul kills Galbraith.
As the chief of police tells Raoul that he will have to stand trial for murder, Jerry and Kiki step outside the police station. The conversation between the two lovers is as follows.
Kiki: We stood here once before.
Jerry: I know.
Kiki: I hated you that day. You and your flip talk. That little girl lying dead.
Jerry: How do you think I felt when you told me not to be soft? [At Theresa's funeral, Kiki tells Jerry not to give Theresa's family any money because it would show he's soft.]
Kiki: Oh, Jerry, I want you to be soft. You're soft inside where it counts. I wanted it that day, too, but I didn't dare tell you.
Jerry: Kiki, Galbraith said something to me, something that you ought to know. We were talking and he said that people were like that ball in the fountain at the hotel. [A small ball perpetually bounces on top of a stream of water that shoots up in the air.] That they get pushed around by things bigger than themselves. That's the way it was with us, only we were too small to see it that way.
Kiki smiles at Jerry. They walk away, arm in arm, and the film ends.
In an earlier scene, Kiki confesses to Jerry that she has spent her life "pretending that nothing bothers" her. Then she says, "We've been so busy trying to be tough guys," and Jerry kisses her.
Kiki continues, "Confession. I'm a complete softy. Oh, I've been conscience-stricken and worried sick ever since that leopard got loose."
Jerry replies, "If that's what it takes to make a softy, there's two of us."
Next they exchange lies to each other about why they're out of money. Since the lies don't make sense, Kiki and Jerry are forced to admit they are broke because they secretly gave away their money to the families of the dead young women.
After confessing how they really are – soft, not cynical or hardboiled – they are able to show that they love each other.
By dropping their pretense of being hard, they free themselves from behaving as cynical and uncaring people. If they didn't break free by choice, they would go on being "pushed around by things bigger than themselves" (i.e., social conventions that frown upon softies).
What Kiki and Jerry show is that they're not fated to live their lives behind a false front of toughness. By exerting their willpower to change the way they have lived, they not only make themselves a romantic couple, they make themselves a pair of amateur detectives. Their decision to cease being cynical and hardboiled results in their choice not to leave the town.
Before Kiki and Jerry admit that they are two softies, Jerry says, "All I want to do is go to Chicago." As Kiki starts to tell Jerry that she wants to be different, she acknowledges, "All I cared about is myself. Myself and my two by four career."
Immediately after they have their mutual confessional and their first kiss, they understand that they can't catch a train for Chicago. Instead, they have to stay and "catch a murderer." Kiki says, "I want this town to be safe and happy again." Jerry says he doesn't "know how to start being a detective. All I know is I want to do something about this."
The Leopard Man explicitly takes to task the very noir attributes Elliot ascribes to it. But, as I see it, this rejection doesn't weaken the film. Because Kiki and Jerry reject cynicism and fatalism, their efforts lead to the exposure and death of the murderer. Galbraith may have been damned, but he would not have been doomed – that is, he would have been able to continue killing innocent young women – unless Kiki and Jerry had rejected their hardboiled, selfish attitude toward others.