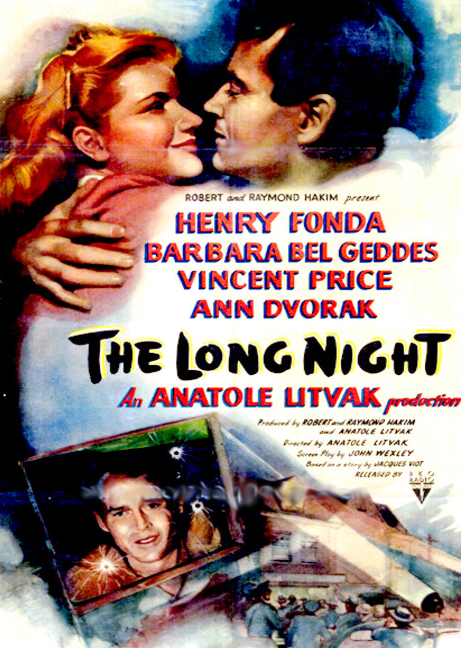 Director: Anatole Litvak. Screenplay: Jacques Viot, John Wexley. Producers: Raymond Hakim, Robert Hakim, Anatole Litvak (RKO Radio Pictures, Select Pictures Inc.). Director of Photography: Sol Polito. Music: Dimitri Tiomkin. Editor: Robert Swink. Costume Designer: Renié. Cast: Henry Fonda (Joe Adams), Barbara Bel Geddes (Jo Ann), Vincent Price (Maximilian), Ann Dvorak (Charlene), Howard Freeman (Sheriff Ned Meade), Moroni Olsen (Chief of Police), Elisha Cook Jr. (Frank Dunlap), Queenie Smith (Mrs. Tully), David Clark (Bill Pulanski), Charles McGraw (Policeman Stevens), Patty King (Peggy), Robert A. Davis (Freddie). Released: RKO, May 28, 1947. 101 minutes.
Plot Summary
In his cheap hotel room, Joe kills Max with Max's gun. He locks himself in and shoots when cops tell him to come out. State troopers and city police fire fusillades through the room's window and door. People fill up the street. Many are workers from Joe's plant and WWII veterans like him. Joe smokes and has flashbacks about Jo Ann, a young florist he loves. Her past romance with Max, a much older man, torments him. Max, a traveling magician, kept trying to get Joe to give her up. When Joe asked Jo Ann about her relationship with Max, she explained how she got to know him and promised not to see him again. Charlene, who used to be Max's assistant and lover, lets Joe know that Max and Jo Ann had sex. Joe lost his head and murdered Max when Max threatened to reveal "details" of his affair with Jo Ann. As the police prepare to fire tear gas, Jo Ann cuts through the crowd to get to Joe. She implores him to give up and save himself. He does. When he is free again, she will be waiting.
Commentary
In The Long Night, the main characters, most events and even numerous lines are taken from Le Jour se lève, a classic of French poetic realism. Nonetheless, there are significant differences between the films.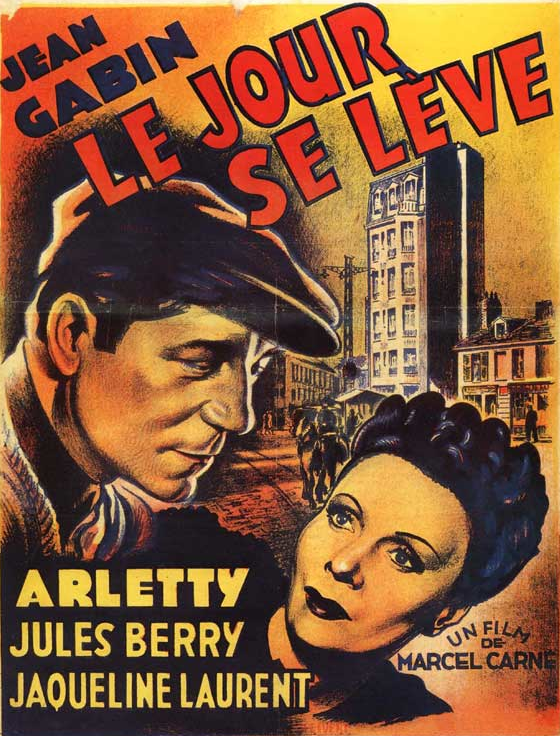 After knowing each other for three weeks, Joe and Jo Ann talk about kissing, whereas François (Jean Gabin) asks Françoise (Jacqueline Laurent) to sleep with him. When François learns Françoise is a "conquest" of Valentin (Jules Berry), he is disappointed, not devastated. But Joe is anguished to find out Jo Ann isn't a virgin ("untouched, unspoiled"). At the beginning of the film he bemoans, "A guy figures if a girl loves him, she'll tell him everything, no matter what." Later he wishes for "someone to have faith in." Maximilian goads Joe about his "naïve conceptions concerning women," which is impossible for Valentin to do to François.
The more conservative outlook on sex in the U.S. results in greater despair in Joe than François. At the climax of the film, the noir visual style peaks as Jo Ann makes her way to Joe's building to save his life. There she pleads for him to "believe in" her. Unlike François, Joe suffers from a crisis of trust. He had a dream-image of Jo Ann, which she didn't live up to. His feeling of betrayal is unfair, and she wants to help him get over it.
François kills himself, but Joe lives. These endings are associated with different historical contexts. The films of poetic realism were related to the rise and fall of the French government of the Popular Front. At first, they were optimistic. Then they became pessimistic, like Le Jour se lève, released in 1939, after the Popular Front had dissolved. Economic crisis continued, and bloodshed with Germany seemed inevitable. François pulls the trigger at a bleak time for France.
In contrast, the future of postwar United States looked positive. The "long night" of the Great Depression, fascism and war was over. Crowds voice their support for François as well as Joe. However, only in The Long Night do they tell the accused man to give up because he will get "a fair trial." At the beginning of the film a narrator says this is "a story about average human beings living in an average American town." As Joe is led away by the police, Freddie, a black man, lights Joe's cigarette. Joe asks Freddie whether they will "make it." He ends the film by answering his own question, "Think we'll just about make it." There will be a new day for every American, of every race.
The conclusion with a black man recalls the start of the film, which shows a monument put up by the Grand Army of the Potomac to "the GIs of 1865." The U.S. Civil War ended slavery. Joe and his town's other much appreciated "servicemen and servicewomen" defeated the Axis. Joe has earned a future with Jo Ann in a better America. In this context, he deserves to stay alive.