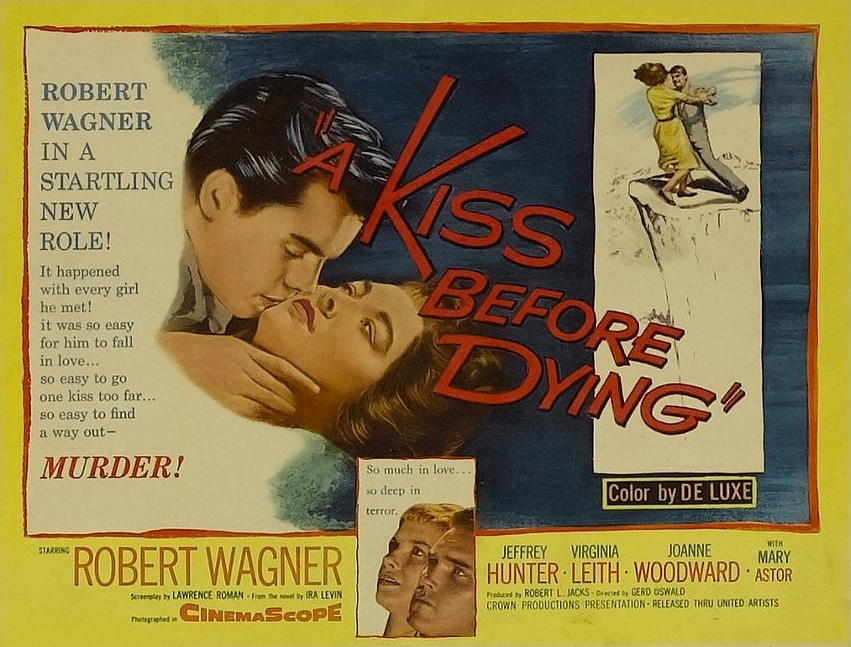 Introduction
The text in the Presentation below is based on my plot summary and commentary about A Kiss Before Dying, as published in Film Noir: The Encyclopedia (Overlook Duckworth, 2010, 166-167). It has been reformatted into shorter paragraphs.
Afterwards, in an Addendum, I critique a key aspect of Robert Miklitsch's analysis of A Kiss Before Dying, which is included in his book,The Red and the Black: American Film Noir in the 1950s (University of Illinois Press, 2017).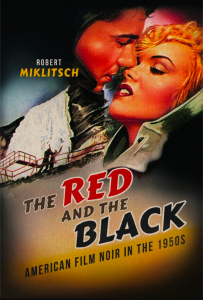 Presentation: From Film Noir: The Encyclopedia
Director: Gerd Oswald. Screenplay: Lawrence Roman based on the novel A Kiss Before Dying by Ira Levin. Producer: Robert L. Jacks (Crown Productions). Director of Photography: Lucian Ballard. Music: Lionel Newman. Art Director: Addison Hehr. Editor: George Gittens [George A. Gittens]. Cast: Robert Wagner (Bud Corliss), Jeffrey Hunter (Gordon Grant), Virginia Leith (Ellen Kingship), Joanne Woodward (Dorothy ['Dorie'] Kingship), Mary Astor (Mrs. Corliss), George Macready (Leo Kingship), Robert Quarry (Dwight Powell), Howard Petrie (Howard Chesser, Chief of Police), Bill Walker (Bill, the Butler), Molly McCart (Annabelle Koch), Marlene Felton (Medical Student). Released: United Artists, June 12, 1956. 94 minutes.
Plot Summary
Bud and Dorie are having a secret affair. With a legitimate marriage, he will fulfill his dream of becoming wealthy at her father's copper mining company. However, she gets pregnant and doesn't care that her father will disown her. Bud asks her to meet him at the marriage license bureau. He takes her to the building's rooftop and pushes her off. He makes her death look like suicide. Next he gets engaged to Ellen, Dorie's sister. Ellen figures out Dorie thought she was going to marry someone, and it was that man who killed her. She tracks down Dwight, an ex-boyfriend of Dorie's, and accuses him of the murder. He denies it. Dwight goes to his dorm room to get the address of Dorie's next boyfriend. Bud, who has been following Ellen, is waiting there. He shoots Dwight, making it look like Dwight committed suicide in remorse for killing Dorie. Gordon, the police chief's nephew and once Dorie's tutor, discovers Dwight couldn't have killed Dorie, so he would have had no reason kill himself. Evidence against Bud mounts. Desperate to avoid arrest, he tries to murder Ellen, but he is accidentally killed instead. Gordon has longed for Ellen since they met, but it is unclear what their future holds in store.
Commentary
Although A Kiss Before Dying recalls A Place in the Sun, a significant difference is that in A Place in the Sun there is no question that men love women (as mothers, girlfriends, wives, or daughters), whereas in A Kiss Before Dying a key question is whether Bud or Leo is capable of sincere affection for women.
Unlike George Eastman in A Place in the Sun, Bud doesn't have a benevolent rich uncle to help him get ahead. He only has will power, signified each time he hunches his shoulders (he will do whatever it takes, including murder) and by a framed newspaper article that says in school he was voted the most ambitious and the most likely to succeed. In the opening scene the camera pans through his bedroom until it is above Bud, who is looking down at the back of Dorie's head. She isn't important enough to be seen; she is only a means for him to get a place in the Kingship copper company.
Bud's working class mother embarrasses him. He recoils at her tastelessness in clothes and unsophisticated conversation. Although A Kiss Before Dying brims with bright colors – especially orange, yellow and light blue – Dorie's sports car, his mother's hair and Ellen's poolside telephone are the color of copper. Since this color associates each of these women with Bud's goal, it objectifies them, reinforcing that they serve to help him realize his ambition.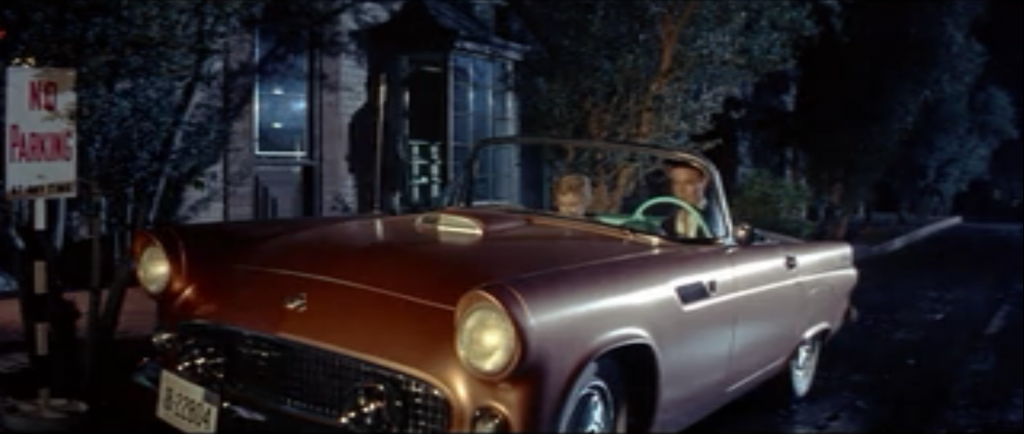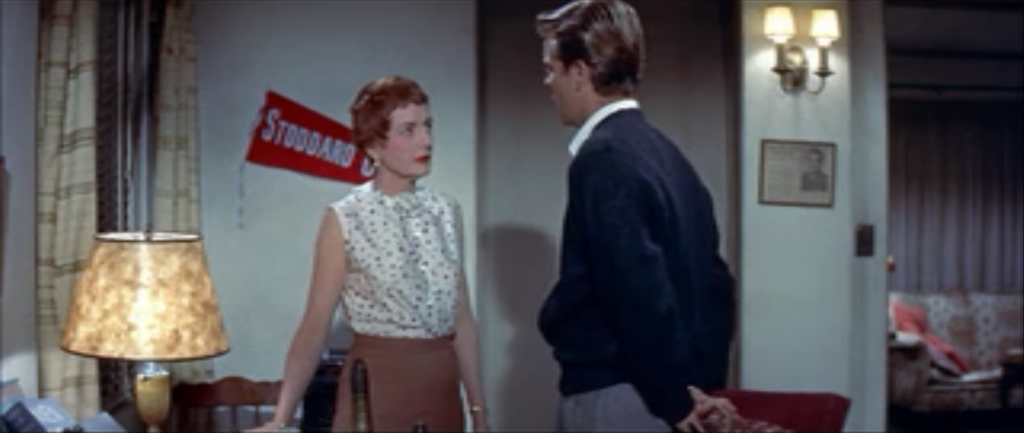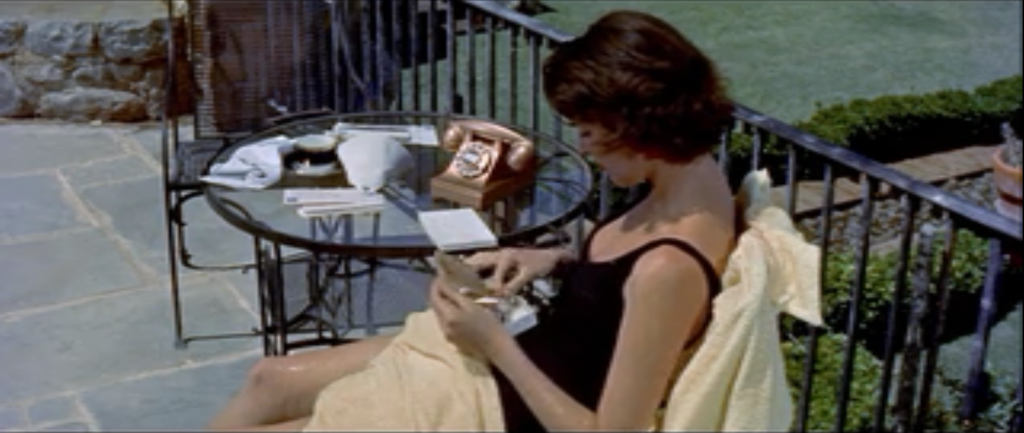 Because Dorie is a means to an end, if Bud has to get rid of her, he will use Ellen instead. If Bud has to murder Ellen, too, then he will advance himself without marrying any of Leo's daughters. (In Ira Levin's novel, Bud murders two sisters and tries to kill a third.) Just before Bud attacks Ellen, he tells her, "Your father and I will grieve together. We'll have that to share between us." However, Bud not only fails to kill Ellen, but also at the conclusion of the film he and Leo no longer share having a clump of ore where there should be a heart.
Bud may not change during the movie, but the transformation of Leo from a heartless to a sensitive father is central to the second half of the film. Dorie and Ellen disdain him because he divorced their mother, "sick and all," after she'd made "one little slip." Since the police believe Dorie committed suicide, Leo accepts Gordon's advice not to look for the man she had been dating, to avoid stimulating "talk" about her death. Adding insult to injury in Ellen's view, Leo refuses to take with him the "valuables" found in Dorie's purse. He tells the police chief, "Dispose of them as you see fit. I'd consider it a personal favor." Leaving the police station, he reaches to touch Ellen, but she moves away.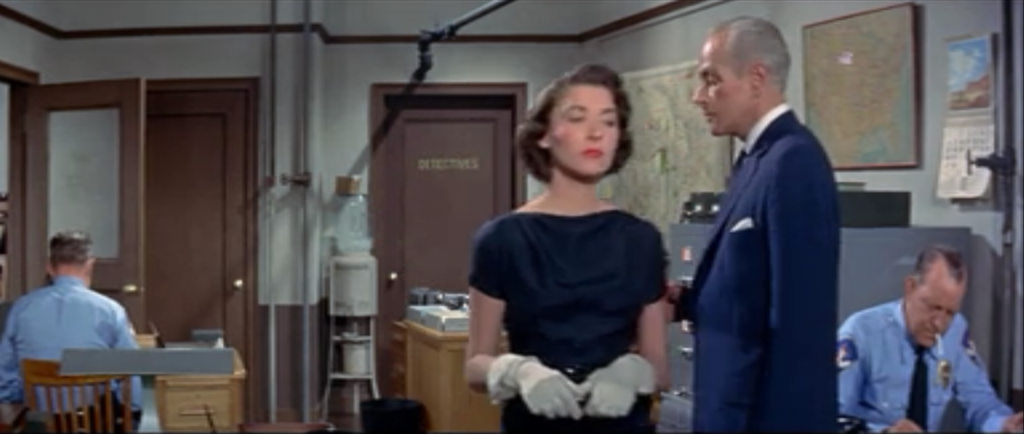 When Ellen gives reasons Dorie didn't kill herself, Leo thinks she's "distorting the facts," and Gordon says her ideas are "far-fetched." So she hunts the killer on her own.
The night scene Ellen confronts Dwight shows the most noir style in the film. She is shot high overhead as she walks toward a bar and then crosses a wet street to an alley. There Ellen is framed close up against a brick wall, her head's shadow looms behind her, and another shadow angles across her chest.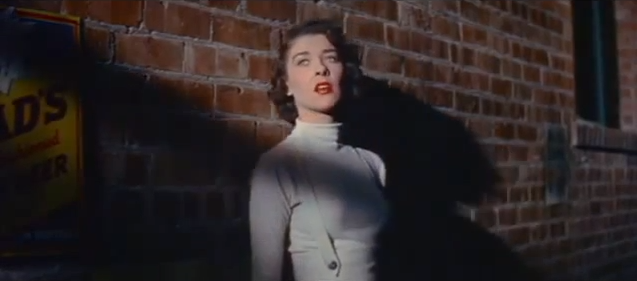 Presumably, the imagery presages her death because, if Dwight had killed Dorie and if he sees Ellen, then he will kill her, too. Dwight does see her, and he chases her to the end of the alley, where a huge diagonal shadow runs down the wall and over her entire body.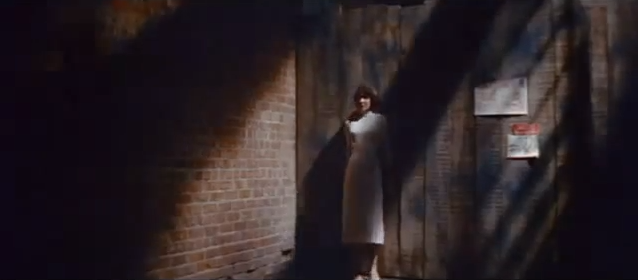 Dwight grabs her arms, as Bud later does when he tries to kill her. The noir style misleadingly suggests Ellen is in peril because, in fact, she fights back, shouting, "Let me go! Take your hands off me!"
Ellen's resistance to Dwight is as strong as her insistence to Leo and Gordon that Dorie was murdered. When Ellen comes home, there is a volte-face in Leo's behavior toward her. Although she won't let him touch her, he shares her relief that Dorie didn't commit suicide. "If you're better, I'm fine," he smiles.
After Ellen survives Bud's attack, Leo approaches her but doesn't touch her. She bumps into him as she walks past him. Neither says a word. They turn and face each other. Ellen puts her hand on Leo's arm.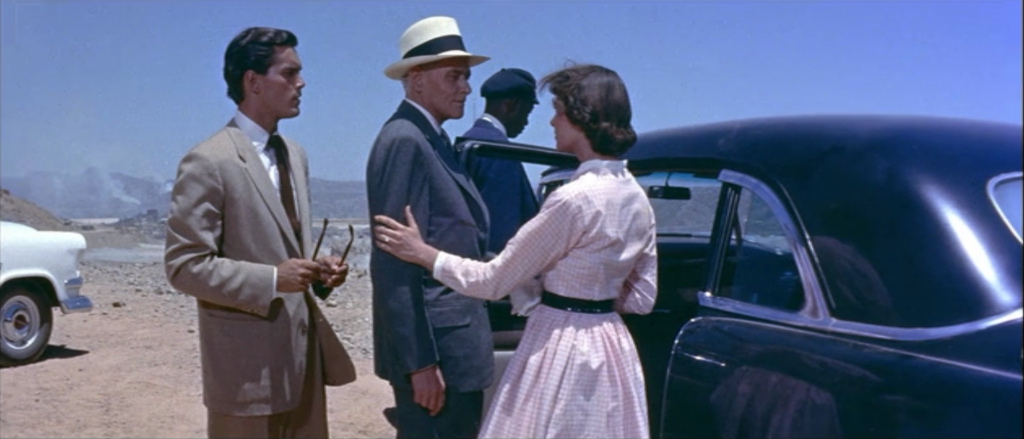 Completing their rapprochement, Leo gently holds her arm as Ellen step into his car. The finale isn't about Ellen and Bud, or Ellen and Gordon. The conclusion of A Kiss Before Dying is that Leo at last has a heart and Ellen knows it.
Addendum: Robert Miklitsch's Misinterpretation of Ellen Kingship
In his book, The Red and the Black: American Film Noir in the 1950s (University of Illinois Press, 2017), Robert Miklitsch has a chapter called, "Noir en couleur: Color and Widescreen," which considers four films: Black Widow, House of Bamboo, Slightly Scarlet, and A Kiss Before Dying.
At the end of his discussion of A Kiss Before Dying, Miklitsch focuses on Ellen Kingship as being a "girl detective." The term is used by the killer, Bud Corliss, in Ira Levin's novel, A Kiss Before Dying (New York: Simon and Schuster, 1953). Miklitsch explains, "In Levin's novel, Bud refers to Ellen as the 'girl detective,' taunting her right before he shoots her: 'No, you had to be the girl detective! Well, this is what happens to girl detectives!'" (192)
Miklitsch says that Ellen is a "rare type in '50s noir, a woman with a real nose for detection." (195) Among his analyses of the use of color in the film, he brings out how pink is associated with Ellen as a sleuth.
"In the concluding, climatic sequence of A Kiss Before Dying…in a sartorial twist that speaks volumes (since it's the first time in the film that Ellen reprises an outfit), she's dressed in the same pink cotton dress she donned when she decided to act on her suspicion that her sister's death was not a suicide…Though pink has traditionally been associated with femininity – with the accent on the word femme – it's also a mixture of red and white, danger and purity. Ellen's pink cotton dress therefore marks the moment in A Kiss Before Dying when she transitions from being a potential victim to a private eye. In Levin's novel Ellen Kingship falls prey to the kiss of the spider-man and pays for it, like Dorie, with her life. However, in Gerd Oswald's noir en couleur, it's the "girl detective" Ellen – pretty in pink – who masters the man who would be king." (194, 195)
In the film, there is no mention by anyone that Ellen is behaving like a detective. Although she initially makes important deductions – such as that Dorie went to the building where she fell to her death in order to get married – Miklitsch isn't justified in saying Ellen has "a real nose for detection." Why? Because it would mean that Ellen consistently acts like a "private eye." On the contrary, Ellen abandons her skepticism that Dorie didn't kill herself and, consequently, she stops her investigation. It isn't until "the concluding, climatic sequence," because of a mistake made by Bud, that she finally becomes suspicious of her fiancé. I suggest that the causes of Miklitsch's misinterpretation of Ellen result from, first, his reliance on Bud's characterization of Ellen in the novel and, second, his ignoring what Ellen actually does in the film.
In both the novel and the film, the following takes place. After Ellen figures out Dorie was going to get married, she goes to Dorie's university town to find out who her sister had been seeing. Ellen comes to suspect one of the students, Dwight Powell. She meets him, goes with him to a bar, hears him out, and accepts his assurances of his innocence. Dwight says that where he lives he has the address of the student who went out with Dorie after him. (Unbeknownst to them, Bud is sitting and listening at a nearby table. Because he has previously learned where Dwight lives, he leaves the bar before they do.) While Ellen waits downstairs, Dwight goes upstairs to his bedroom. Bud is hiding in Dwight's closet, wearing gloves and holding a pistol. Once Bud comes out of the closet, the plots of the novel and film become markedly different.
In the novel, Ellen hears a shot and when she goes upstairs, she finds Bud holding the gun and Dwight dead on the floor. Bud makes up excuses about why he overheard Ellen and Dwight at the bar and why he was in the closet. He says he saw Dwight pick up the gun and assumed he was going to kill Ellen. He came out of the closet, jumped Dwight and the gun "went off." They leave the place, but while Bud is driving Ellen in a (stolen) car, she persistently says he should give himself up. She thinks the police will believe Bud's story that he shot Dwight accidentally. She wants to call her father so that he "can take care of lawyers and everything." She also raises objections to Bud's certainties that Dwight murdered Dorie and was going to use the gun to kill herself. Ellen keeps at it until she realizes Bud is "going the wrong way." As Miklitsch says above, the ride ends with Bud shooting Ellen for being too much a "girl detective." (It isn't until the penultimate chapter of the novel that we learn "the first bullet wasn't enough.")
However, it isn't what Ellen says in the car that causes Bud, in Miklitsche's words, to be "taunting her right before he shoots her." Then what is it that she did? The answer is critical to demonstrating Miklitsche's misinterpretation of Ellen as a detective. In the novel, Ellen's sleuthing ends about two-thirds through the book (when she dies). Significantly, it also ends at the same place in the plot in the film.
In the novel, after they leave Dwight's corspe, Bud doesn't drive Ellen back to her hotel, as she expects him to. Why? Because he has already made up his mind to commit a third murder. Ellen's fatal mistake was to ignore Bud's insistence that she shouldn't investigate who Dorie had been dating and, thus, find out who killed her. Ira Levin writes:
"I told you not to come," he said querulously. "I begged you to stay in Caldwell, didn't I?" He glanced at her as though expecting a confirmation. "But no. No, you had to be the girl detective! Well this is what happens to girl detectives." (176)
In the film, Bud has already used Dwight's typewriter to compose a suicide note. Bud makes Dwight sit in front of the typewriter. Standing on Dwight's right side, Bud happens to see a framed Spanish language newspaper article with a photograph of Dwight holding a tennis racquet in his left hand. Bud steps around to Dwight's left side so that (off camera) after he shoots Dwight in the left temple, he can place the gun in Dwight's dominant hand. Ellen hears the shot and comes upstairs, but Bud gets away unseen. Bud's note makes it seem that Dwight's motive for killing himself was his guilty conscience about murdering Dorie, compounded by Ellen's suspicion of him. The local chief of police credits Ellen for being correct that Dorie didn't commit suicide. He adds that now the case is closed "for good."
After Dwight's death, Ellen returns to the Kingship house. Miklitsch describes – and interprets – the scene as follows, "Although Ellen returns safely home in a chauffeured black limousine, the long cypress shadows on the gravel driveway outside her father's house suggest that the case is not quite closed yet." (193) Who is going realize that the case isn't closed? Who is going to solve the case? Will it be Ellen? If she really has "a nose for detection," it cannot be only when she wears a pink cotton dress. To be a "girl detective," to be a "private eye," Ellen has to be convinced that the case isn't closed and that she has to keep investigating until she cracks it. This isn't what happens in the film, which is why Miklitsch misinterprets Ellen.
In the novel, there is an amateur detective, Gordon Gant. He briefly knew (and was attracted to) Ellen when she came to his town, where she met Dwight Powell and her death. At the end of the book, he convinces Leo Kingship that Bud has murdered Dorie and Ellen and, therefore, in just a couple of days, Marion, his remaining daughter, shouldn't marry her sisters' killer.
Similarly, in the film, there is an official detective, Gordon Grant (sic). He works part-time in the police station where his uncle is the same chief who later compliments Ellen. As a student, Gordon casually knew Dorie because he tutored her in math. Like his uncle, Gordon believes she committed suicide. Nonetheless, he expresses his sympathy to Ellen and offers to help her "in any way" he can.
Gordon comes to the Kingship house and tells Ellen that, as he was helping his uncle wrap up the case on Dwight Powell, he made "the usual inquires to fill out the record. And there was one interesting fact that just came straggling in. It seems that on the day your sister died, Dwight Powell was playing tennis in a tournament in Mexico City." If Miklitsch is correct that Ellen has "a nose for detection," then it stands to reason she will be highly interested in Gordon's revelation. Instead, Ellen's reaction is, "I don't believe it." Gordon tells her why it is a "fact" – there is a photograph of Dwight in a Mexican newspaper article with the same date as Dorie's death. To Gordon, this means there isn't a "murder and a suicide" because Dwight didn't kill himself. Gordon says, "Two murders. Do you want to go a step further?" Ellen responds, "The man who killed Dorothy is still free." Gordon remarks, "As far as I'm concerned, the case is just starting. I'll keep you posted."
How Gordon gets the evidence that Bud was at the same university as Dorie is very different in the novel than in the film. In the film, Gordon returns to the Kingship house and tells Leo he believes Bud must have known Dorie and, after Bud transferred to Ellen's college, he never told her that he had known her sister. When Leo and Gordon ask Ellen whether she knew about Bud and Dorie, her emphatic reply is that it is "a lie." Furthermore, she walks away from them and says, "Don't ever mention this to me again. Not any part of it. Not ever." Why is this her response? Because after Dwight's death, Ellen stops being a detective. All she cares about is her romance with and coming marriage to Bud. Contrary to Miklitsch's interpretation, it isn't Ellen who perseveres until she identifies who murdered Dorie and Dwight. Instead, Gordon solves the mystery.
What Miklitsch calls "the concluding, climatic sequence" is actually two sequences that are intercut. As he says, "…Ellen drives Bud out to her father's smelter…." (194) What Miklitsch ignores is that, at the same time, at the Kingship house, Gordon proves to Leo that Bud was Dorie's "boyfriend." Upon learning where Ellen has gone with Bud, Gordon and Leo drive off to the smelter. Cutting back to the copper mine, Ellen and Bud make stops so that he can revel in one breathtaking view after another. Bud makes a blunder, but it doesn't have the consequence that Miklitsch asserts. Miklitsch says, "[W]hen Bud reflexively corrects Ellen about how long her father's company has been mining the pit and she responds, 'Darling, you sound like you knew the Kingship mine long before the Kingship girl,' his masquerade begins to crumble." (194) Miklitsch implies that, at this point, Ellen becomes cunning ("leading him on"). This is inaccurate and, furthermore, Miklitsch omits what really occurs between Ellen and Bud.
Bud confidently and convincingly justifies why he never told Ellen that he had known Dorie and "even had a few dates with her." Ellen wants nothing more than to believe Bud is telling her the truth. When he questions whether she loves him and then walks away, she runs from her car and into his arms.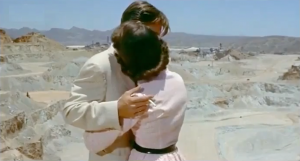 Bud has succeeded in allaying Ellen's suspicions. But at his triumphant moment he overplays his hand. He suggests that Gordon "put [her] up to this" (i.e., made her doubt him). Ellen replies that Gordon came to her house to talk about Dwight Powell. Now, at long last, Ellen starts wondering aloud about what Bud has told her and she has refused to believe. She concludes, "Right beside me all along." Still insisting that Ellen is only conjecturing from coincidences, Bud gives himself away for good when he says, "What does it matter? Dorie knew a dozen…." He breaks off, realizing his error. Inadvertently, the killer unmasks himself. Ellen stares at Bud and says, "Dorie! There weren't a dozen who called her Dorie. Only one." As Ellen tries to prevent Bud from pushing her off the precipice of a deep copper mine, there is a cut to Gordon and Leo watching the struggle from their car. By the time they reach Ellen, she has survived Bud's attack and, after he is hit by a huge dump truck, he is dead at the bottom of the pit.
There is no gainsaying it: 1) Robert Miklitsch is wrong to claim that Ellen is a "girl detective;" 2) Gordon, in fact, is the detective, not Ellen; and 3) Ellen, instead, is Bud's loyal lover until Bud makes one mistake too many.