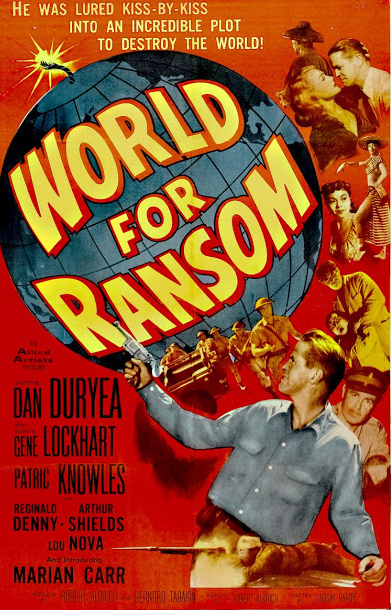 Introduction
In the page The Film Noir PI: Made in the '70s, I note that other authors, beside myself, have said that the private eye is not featured in most film noirs in the classic period.
I present the evidence below.
Presentation
Under the "noir type" category, Private Eye, Michael F. Keaney, in his Film Noir Guide: 745 Films of the Classic Era, 1940-1959 (McFarland & Company, Inc., 2003), cites the following films, which are listed in chronological order based on month as well as year of release. (490)
The Maltese Falcon (1941)
Murder, My Sweet (1944)
The Falcon in San Francisco (1945)
The Spider (1945)
The Dark Corner (1946)
The Big Sleep (1946)
The Brasher Doubloon (1947)
Philo Vance's Gamble (1947)
Lady in the Lake (1947)
Blackmail (1947)
High Tide (1947)
Riff-Raff (1947)
I Love Trouble (1948)
I, the Jury (1953)
Kiss Me Deadly (1955)
My Gun Is Quick (1957)
For the same years, 1940-1959, Andrew Spicer, under the entry, "Private Eyes," in his Historical Dictionary of Film Noir (The Scarecrow Press, 2010), adds only Out of the Past (1947) and World for Ransom (1954). (247)
Keaney includes both of these films in his book. However, he associates Out of the Past with the noir type "Femme Fatale,"  and, after noting that World for Ransom has "an Irish P.I.," he associates it with the noir type "Far East."
Spicer doesn't include The Falcon in San Francisco.
Spencer Selby, in The Worldwide Film Noir Tradition (Sink Press, 2013), cites the following twelve additional film noirs that have a detective who is not on a police force: Accomplice, Danger Zone, Girl on the Run, Guilty Bystander, Half Past Midnight, Mysterious Intruder, Pier 23, The Return of the Whistler, Roaring City, Take One False Step, The Tiger Woman, and The Walking Hills. (Their dates are provided below.)
Four of these films are also in Keaney's book. However, he doesn't associate any of them with the noir type "Private Eye." The titles and their associated noir types are as follows: Accomplice ("Missing Person"), Danger Zone ("Whodunit"), Guilty Bystander ("Boozer"), and The Return of the Whistler (Missing Person).
Selby doesn't claim that each of his eleven films features a private detective. But any films that lack a PI don't belong in a list of private eye film noirs. And only four of them do belong.
Keaney and Spicer's reference guides each contain more titles of U.S. film noirs than other books. Keaney has 745, and Spicer has 804. However, their combined total of private eye film noirs is a paltry eighteen. Adding four more from Selby brings the grand total to merely twenty-two.
However, I must add two more, Sherlock Holmes and the Voice of Terror (1942) and Quiet Please, Murder (1942), neither of which is cited in any film noir reference book. (For a description and analysis, see the pages, respectively, Sherlock Holmes-The Voice of Terror and Quiet Please, Murder.)
Below I explain, first, which of Selby's additional films should be included in the list of private eye film noirs, and then I explain why the rest don't belong.
Additional Private Eye Film Noirs
Accomplice (1946) is a private eye film noir without either a hardboiled dick or a paying client.
After his girlfriend, Joyce (Veda Ann Borg), stood him up at the alter, Simon Lash (Richard Arlen) quit his law practice and became "one of the best detectives in the country." Despite being able to punch and shoot, Lash isn't a hardboiled PI. Instead, he is more of a gentleman detective, like Philo Vance. He wears a bow tie; he twice gives a woman down on her luck money from his wallet; and he doesn't have a downtown office. Furthermore, he prefers to collect and read expensive books rather than solve mysteries for paying clients. As a result, he hasn't made his rent and car payments, which should be expensive since both his apartment and his convertible are high class.
When the film begins, Joyce, who married an older man because he was rich, comes to Lash's apartment. She offers him a thousand dollars to find her husband, who supposedly is suffering from amnesia and is missing. However, once Lash learns the husband had a girlfriend, he thinks Joyce has only hired him to get evidence for a divorce. He won't do divorce jobs, so he gives her back the money. Then they find out her husband's head was blown off with a shotgun. Was it suicide or murder? Lash investigates the death as Joyce's client, but pro bono.
A very complicated plot ensues, climaxed when Lash and Joyce kiss – and she reaches for a rifle to shoot him. He slaps her face twice and says, "Three murders were enough, Joyce. I object to being a fourth." Since Lash believes she is the murderer, she would be "a killer client" (a character-type I explain in the page The Killer Client & the PI). But Lash is mistaken. Joyce is the accomplice of the film's title. Her husband, Jim (Edward Earle), is not only alive, but the killer, and Joyce has been in cahoots with him all along. In a shootout with Lash, Jim accidentally kills Joyce, and then Lash kills Jim. The film ends with Lash as broke as at the beginning. But because he failed to solve the mystery, it seems only just.
Frequently, at the conclusion of a private eye film noir (as I in explain in the page The Sweetheart & the PI), a PI gets a sweetheart. Hollywood's gentleman detective, no matter how flirtatious he is, winds up alone, except perhaps with a male sidekick. The Falcon is one such gentleman detective. In fact, three entries in the series, each with Tom Conway, are arguably film noir: The Falcon in Mexico, The Falcon in Hollywood, and The Falcon in San Francisco. (The notable difference between these films and the others with Conway or those with his predecessor, George Sanders, is the presence of a noir visual style, such as expressionist camera angles and/or chiaroscuro.) The Falcon may be attracted and attractive to women, but when a case is over, he never winds up with a sweetheart. This is one more instance in which Simon Lash is a gentleman detective, not hardboiled. Lash doesn't get a sweetheart. His companion remains his assistant, Eddie (Tom Dugan), who has the stock character polar-opposite personality of his "boss," typical of male sidekicks in gentleman detective films.
Guilty Bystander (1950) is private eye film noir with a hardboiled dick and a fine noir visual style.
Max Thursday (Zachary Scott) is a house detective who lives and works in an alcoholic fog at a rundown hotel on skid row. His employer is an old woman named Smitty (Mary Boland). She supplies him with bottles of hard liquor gratis. Thursday once was a police lieutenant, but the press publicized his drinking and he was canned from the force. When the film begins, his estranged wife (Faye Emerson) comes to his hotel room, wakes him up from his stupor, and pleads that he find their son, who has disappeared with her brother. His investigation takes him outside the hotel into the mean streets of New York. However, he isn't earning a penny.
The film ends back at the hotel, where Thursday realizes that Smitty is the criminal, "St. Paul," that he has been searching for. She is just like "a killer client" (a character-type I explain in the page The Killer Client & the PI). Throughout the "film Smitty has seemingly been helping Thursday, but she has actually been murdering the persons he hopes will lead him to "St. Paul." Smitty has used Thursday's "brain" to help her locate his brother-in-law because he has a string of stolen diamonds that she wants in order to live for the rest of her life like "a queen." Thursday learns where his son is located and then calls the police to arrest Smitty. In the next, final scene, Thursday, his wife and their boy are shown happy together on the lawn of a suburban home. Presumably, Thursday is sober and, because he cracked the diamond robbery caper, he may be back on the police force. As I explain in another webpage, in most private eye film noirs, the detective gets a sweetheart. In Guilty Bystander, Max Thursday goes one better and reconciles with his wife.
Mysterious Intruder (1946) is a private eye film noir with a hardboiled dick, a femme fatale and a strong noir visual style.
It is part of the Whistler series, in which every film (except the last) stars Richard Dix in different role. In this one Dix plays Don Gale, a private investigator. An elderly shopkeeper (Paul E. Burns) comes to Gale's office to hire him to find Elora Lund, a young woman he wants to make rich. The twist is that the old man hasn't seen Lund since she was a young girl, so he wouldn't recognize her. Also, he won't tell Dix how he can make the woman wealthy.
Impatient and greedy, Dix double-crosses Stillwell by sending an imposter, Freda Hanson (Helen Mowery), to the shop. Before the old man can deliver on his word to give her something worth $200,000, he is murdered by Harry Pontos (Mike Mazurki). Next the police kill Pontos, a criminal with a long record, in a shootout at his house. Gale, who was inside the house, narrowly escapes being killed in the crossfire. He goes to Freda's apartment and proves that she tried to have him killed when the police broke into Pontos' house. She was responsible for alerting the police where Pontos lived. She knew the cops would bust in with their guns blazing. Freda had been working with Pontos, who killed Stillwell when he thought he had what was so valuable – a music box. Later, when he opened it, he found it was empty.
Before Stillwell was killed, he gave Freda a newspaper clipping. It said Jenny Lind, the Swedish Nightingale, made two wax cylindrical records six months prior to her death, and a Swedish tycoon was offering $100,000 for each record. Freda figured, with both Pontos and Gale out of the way, she wouldn't have to share Stillwell's fortune with anyone. While Gale is in Freda's apartment, someone knocks on her door. Gale ducks into a back room, where he finds the clipping. When he leaves the apartment, Freda is not there.
Freda is found strangled in a closet in her apartment. Gale, the last person seen entering Freda's apartment, becomes wanted for murder. Gale sneaks into Stillwell's shop and goes down the stairs into the basement. He sees the apartment house manager, James Summers (Regis Toomey), searching through Stillwell's effects. Summers finds the box with the Jenny Lind records. Before he can leave the basement, Gale pulls a gun on him and demands that he hand over the records. Summers had been working with Pontos and Freda. Freda took care of Pontos, and when Summers feared that Gale was going to turn Freda over to the police, he took care of her.
Following a shootout in the basement, which leaves Summers wounded, Gale takes the box with the records and climbs the stairs to Stillwell's shop. He calls the police to leave a message for detectives Taggart and Burns (Barton McLane and Charles Lane) that he has Freda's murderer and the records. Then he hears a noise on the stairs. He shoots once through a curtain and return fire kills him. Taggart and Burns come up the stairs. They had entered the basement by a back entrance. Taggart takes the box from Gale, opens it, and finds that a bullet they shot destroyed both records before killing Gale.
Mysterious Intruder ends with the familiar Whistler voice-over. "And so, after balancing precariously on the border line of the law, Don Gale at the end was trying to do the right thing. But he made one fatal mistake. Thinking that one of the killers had come back to attack him, he fired blindly. Taggart and Burns will never know that Gale's shots were not meant for them."
The Return of the Whistler (1948) is a private eye film noir without a hardboiled dick and virtually no noir visual style.
This is the last in the series, without Richard Dix, who starred in all the previous Whistler films. What makes it unusual is that the PI, Gaylord Traynor (Richard Lane), deceives Ted Nichols (Michael Duane) into believing that he really wants to help Ted find his missing wife, Alice Durpres Barkley (Lenore Aubert).
Arriving for an appointment Ted made with a small town's justice of the peace, he and Alice learn that the ceremony cannot be performed because the officer is caught out of town in a rainstorm. The local hotel has a room for Alice, but Ted has to stay elsewhere off the premises. The next morning Ted returns to the hotel and finds Alice is gone. Observing Ted's failure to get the night clerk to confirm that Alice didn't walk out on him, Traynor introduces himself and offers his assistance. As Ted drives back to his apartment in another city to get photographs of Alice to give Traynor, he tells the PI how he and Alice, who told him that she was a recent émigré from France, met and fell in love. Once Ted hands over the photos and Alice's license for her marriage to an American pilot, who she said was killed in France during WWII, Traynor slugs Ted and flees with the documents.
Later we discover that relatives of her late husband bribed the night clerk for his false testimony, took Alice from the hotel and are holding her captive. Their scheme is to prevent anyone from learning that Alice is the rightful owner of her deceased father-in-law's valuable estate. This requires one of the conspirators to pretend to be her husband. The relatives plan to keep the money for themselves from the sale of the estate, since its ownership will be claimed by the imposter husband.
Ted figures out that on the night he met Alice, she must have come from the Barkley mansion, so he goes there to look for her. The relatives convince Ted that Alice is insane and that she has been living in America for years with her husband, who didn't die in the war. Ted falls for their deception and goes off. The relatives pay Traynor for obtaining the documents; he had worked for them believing they were honest.
After Ted finds Alice's passport in his car's glove compartment, he realizes she told him the truth because the passport stamps show that she has only been in the US for a few weeks. Traynor, meanwhile, kept one of the photos he took from Ted and has had it enlarged. It shows Alice in France with her real husband, who looks nothing like the imposter. Traynor understands he has been duped and that he needs to make amends. Working separately but toward the same goal, Ted and Traynor locate the sanatorium where Alice is to be permanently institutionalized. Just after Ted rescues Alice, Traynor arrives with the police, who arrest the conspirators. The next day Ted and Alice return to the home of the justice of the peace to take their vows.
The Tiger Woman (1945) is a private eye film noir with a hardboiled dick, a femme fatale and a fine noir visual style.
Adele Mara, a singer at The Tiger Club, hires private detective Kane Richmond to intercede on behalf of her husband with a gangster, Gregory Gay. When Richmond beats Gay in a card trick, Gay forgives Mara's husband of the remainder of his gambling debt. Her husband, who co-owns nightclub with Richard Fraser, robbed it himself to pay back half of his debt to Gay. Mara is cheating on her husband with Fraser. Mara tells Fraser they have to tell her husband about their affair. When they go to his office on the building's third floor, they find her husband dead and on the desk there is a suicide note. Fraser tells Mara that her husband's life insurance won't pay out for suicide. They both want the money, so Fraser burns the note and they make her husband's death look like murder. Richmond stays on working for Mara, but he rips up the $5,000 contract he had with her. An innocent bookkeeper was arrested for the robbery at The Tiger Club. His daughter, Peggy Stewart, was seen by a cleaning woman entering the club's office the night Mara's husband died. Stewart is charged, convicted and sentenced to execution for killing Mara's husband. In the nightclub's office, Fraser tells Mara they should save Stewart's life by confessing to the scam to collect $100,000 from her husband's insurance policy. Mara slips Fraser a mickey and, after he gets woozy, she opens a window and pushes him out. Richmond deceives Mara into thinking he has fallen for her. She agrees to take a train ride with him to the place where he is going to go fishing. On the train he tells her how he knows she murdered Fraser. She is willing to admit to killing her husband (and at the time not knowing that the suicide note she wrote would prevent her from getting the insurance money) because she intends to shoot Richmond. Just as she fires her gun, the police grab her and the bullet misses Richmond. The PI can enjoy his long awaited fishing trip, but he collects no money for solving the case.
Not Private Eye Film Noirs
Danger Zone, Pier 23 and Roaring City were all released in 1951, and all of them feature Dennis O'Brien (Hugh Beaumont), who is, in Selby's description, a "freelance detective." That is, he isn't a private detective for hire.
O'Brien has no clients. He simply gets caught up in mysteries, which he helps solve. The dialog is hardboiled, but it is embarrassingly clichéd. There is no noir visual style. In any event, the chief reason for disputing the inclusion of these titles in a list of private eye film noirs is that they can hardly be considered films. All of them have two half-hour segments, with distinctly different plots and characters. Each segment is television-ready.
Girl on the Run (1958) isn't a U.S. movie, so it seems implausible to include it in a list of American private eye film noirs. It was only first seen in the U.S. on television.
According to Wikipedia, "Girl on the Run is a 1958 private detective film starring Efrem Zimbalist, Jr., Erin O'Brien and Edd Byrnes. The film is in truth, although not legal fact, based on characters and situations created by writer Roy Huggins in a series of 1940s novels and novellas. The picture was directed by Richard L. Bare and aired on ABC as the pilot for 77 Sunset Strip after an initial, brief theatrical release in the Caribbean. This trip to the Caribbean was legally significant. Huggins' claim to the characters and situations of 77 Sunset Strip was strong, since he had created them in a series of 1940s novels and novellas. But his relationship to this, the first episode of the upcoming series, was comparatively weaker. Marion Hargrove, and not Huggins, had written the script and called it Girl on the Run. Since he had been writing under an episodic television contract, Hargrove had no rights to the series whatsoever. By releasing the project theatrically under the episode title, Warner emphasized Hargrove's contribution at Huggins' expense. When it was thereafter aired on television, it was not legally the debut of a new series, but the television premiere of a theatrical film. This made it possible for Warner to argue that the resulting television series was based on the film, which he wholly owned, rather than Huggins' literary work."
Half Past Midnight (1948) features a ladies man and adventurer, Kent Taylor (Wade Hampton), who offers to help Sally Ferris (Peggy Knudsen), a woman accused of murder. He isn't a private eye, and she doesn't hire him.
However, there is a puzzle for him to solve: who killed the woman who was blackmailing Sally? Since Kent isn't a real PI, perhaps it is to be expected that he doesn't solve the mystery. Late in the film he accuses Sally of being the murderer, even though she vehemently denies it. When a homicide detective (Walter Sande) is about to pinch Sally, she begs Kent to believe she is innocent. Kent slugs the detective. A police lieutenant (Joe Sawyer), who has been at odds both with Kent and the detective throughout the film, figures out who the real killer is. He is, of course, the same man Sally had insisted to Kent was the murderer. Kent apologizes to Sally for having doubted her, and they kiss. The film ends with the one-time Casanova getting a steady sweetheart.
Take One False Step (1949) not only lacks a private eye, the main story doesn't have an actual crime.
"Leading educator" Andrew Gentling (William Powell) is in Los Angeles to raise money for a new university that he wants to establish. His wife, Helen (Dorothy Hart, 30 years younger than Powell), is in New York City. As he steps across a mat at his hotel that says, "BAR," his leg is momentarily freeze-framed. He is about to take that false (ill-chosen) step.
Waiting for him inside is Catherine Sykes (Shelley Winters), who was his girlfriend when he was a coronel during WWII. Still carrying a torch for him, Catherine cajoles Gentling into going out with her. This is a very bad move. When he tries to drop Catherine off at her house, she is so drunk and so clingy that he is barely able to get her to leave his car. The next day's newspaper headlines say Catherine has disappeared, she was last seen with an unidentified man, and it is feared that she has been murdered.
Before Gentling turns himself in to the police, Catherine's friend, Martha Wier (Marsha Hunt), convinces him that they should search for Catherine themselves. After Gentling gets involved in one subplot with gangsters and stolen money, and another involving a German Shepherd that bites him and may have rabies, he finds Catherine. Once he prevents her from jumping off a cliff, and the police take her back home, the film naturally seems over. But wait. Sometime later, Helen and Martha are at the ceremony where Gentling is laying the cornerstone of his new university. Catherine is there, too, and she is leering at him! What happens next doesn't take much guesswork.
The Walking Hills (1949) is strong cinema, with a private detective. But it isn't a private eye film noir.
It takes forty-minutes of running time until we learn, in a flashback, that Shep Wilson (William Bishop) accidently killed a man and then fled the scene. After the police gave up looking for Shep, the dead man's father hired a private eye, Frazee (John Ireland), to find him. The film begins with Frazee having caught up with Shep. However, before Frazee reveals himself to Shep, both of them join a larger group of men who ride horses into a desert to dig for $5 million in gold bars that were supposedly buried with a wagon train under sand dunes in the mid-nineteenth century.
Frazee isn't a private eye in the Sam Spade/Philip Marlowe tradition. He is the most despicable (and greediest) member of the group, even going so far as to threaten to shoot dead anyone who tries to leave when a massive sandstorm approaches. Furthermore, unlike the "central figure" PI in any other film noir (except one), he is killed, and with his own handgun no less.
The exception is Mysterious Intruder (see description above). In another film noir, Out of the Past, Jeff Bailey (Robert Mitchum) dies at the end, but he hasn't been a PI for a long time. In The Falcon's Brother, George Sanders, who initiated the Falcon character, dies and his actual brother, Tom Conway, takes over the role for more entries in the series. The Falcon's Brother, however, isn't a film noir.
Addendum
One of the Appendices in Robert Gerald Porfirio's unpublished Ph. D. dissertation is, "Film Noirs Listed According to Thematic Categories." One of the lists is, "Private Eye," which includes the following 17 films: The Big Sleep, The Blue Dahlia, The Brasher Doubloon, Chicago Deadline, Cornered, Cry Danger, The Dark Corner, Dead Reckoning, The Glass Key, Guilty Bystander, Johnny Angel, Johnny O'Clock, Kiss Me Deadly, Lady in the Lake, The Maltese Falcon, Murder, My Sweet, and Out of the Past. (The Dark Age of American Film: A Study of the American Film Noir [1940-1960], Yale University, Volume II, 254)
Porfirio provides no new private eye film noirs to add to the list I compiled above. This is because all of his films that aren't already present in my list lack a bona fide private detective.
The Blue Dahlia: a veteran
Chicago Deadline: a reporter
Cornered: a Canadian pilot, ex-prisoner of war
Cry Danger: an ex-convict, innocent of the crime
Dead Reckoning: an Army captain
The Glass Key: a politician's bodyguard
Johnny Angel: a ship captain
Johnny O'Clock: a co-owner of a casino
It isn't legitimate to name a film noir as a "private eye" film noir simply because the central character investigates a crime, even if that character is a private civilian (i.e., someone who isn't on a police force).
If it were legitimate, then the film noirs I call "war noirs" would have to be included. In each of them, there is a man falsely accused of murder. Either by himself, or with a working woman, or (if he has been jailed by the police) by the efforts of the woman alone, an investigation is made that ultimately clears his name.
None of these film noirs has ever been cited as a private eye film noir. They are, in alphabetical order: All Through the Night, The Conspirators, Fly-By-Night, The Gorilla Man, Hangmen Also Die!, I Wake Up Screaming, Journey Into Fear, Little Tokyo U.S.A., Man Hunt, Meet Boston Blackie, Ministry of Fear, Pacific Blackout, Phantom Lady, Rage in Heaven, Saboteur, Stranger on the Third Floor, Street of Chance, This Gun for Hire, and When Strangers Marry (a.k.a. Betrayed).
They were all released between 1940 and 1944. (For more information about these "war noirs," see the page Film Noir Plot Elements: WWII vs. Postwar.)
Two additional film noirs, Two O'Clock Courage and Spellbound, which were both released in 1945, share the plot elements of the earlier war noirs. (See the page Two O'Clock Courage for more analysis of this film.)
If the category, "private eye film noir," is to have any value, then the films in the list have to feature an actual private detective, not simply a private civilian investigator. This is especially important because, by strictly – and legitimately – compiling an accurate list, the slender number of private eye film noirs is more glaringly – and justly – exposed.
A central tenet of the film noir hardboiled paradigm is that the private eye has iconic status (and much other lofty significance). Because the PI, in fact, is very rarely a "central figure" in film noir, this tenet for proponents of the hardboiled paradigm can be rightly understood, at least by non-believers of the paradigm, as a myth, a falsehood.