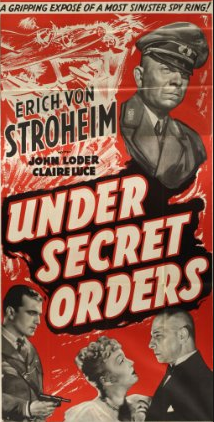 Introduction
Of the six earliest spy noirs, five were British. The first and third, The 39 Steps (1935) and Sabotage (aka The Woman Alone, 1936), were directed by Alfred Hitchcock. Victor Hanbury directed the second, The Crouching Beast (1935). Two of the next three, Secret Lives (aka I Married a Spy) and Under Secret Orders, were directed by a Frenchman, Edmond T. Gréville, and were released in July and December 1937, respectively. Shot at the same time as Under Secret Orders, but released seven months earlier in May 1937, was a French version, Mademoiselle Docteur, directed by G. W. Pabst, a German. Both films have an exceptionally strong noir visual style. Except for the female lead, the casts are different.The star of both Mademoiselle Docteur and Under Secret Orders is Dita Parlo, a German whose screen fame was in France. She plays Dr. Anne-Marie Lesser, a character based on the actual Fräulein Doktor, Elsbeth Schragmüller. (For more about Schragmüller, see the Addendum IV below.)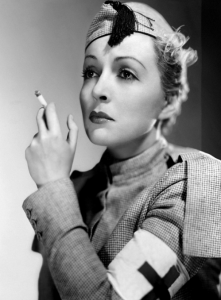 Although there are many similarities in the plots of the two films, there is one crucial difference. In Under Secret Orders Parlo plays a femme fatale, and she is the first femme fatale in film noir (British, French or American). In contrast, in Mademoiselle Docteur Parlo's character falls in love with the enemy officer whom she seduces and betrays in Under Secret Orders. Thus, in the British remake of this spy noir, not the French original, Dita Parlo initiates one of the most central character types in film noir.
For more about Mademoiselle Docteur, an early French film noir and France's first spy noir, see Addendum I, where I compare it to Under Secret Orders; and also see Addendum II, where I compare it to an American film, Stamboul Quest, which was released three years earlier.
For the contrasting views by other French film noir historians about an alternative first femme fatale in film noir, see Addendum III below.
Presentation
Director: Edmond T. Gréville. Screenplay: Marcel Achard. Producer: Max Schach. Cinematographer: Alfred Black. Music: Hans May. Art Director: Oscar Werndorf. Editor: Ray Pitt. Cast: Dita Parlo (Dr. Anne-Marie Lesser), John Loder (Lt. Peter Carr), Erich von Stroheim (Col. W. Mathesius/Simonis), Claire Luce (Gaby, Rene's Girl), Gyles Isham (Lt. Hans Hoffman), Clifford Evans (Rene Condoyan), John Abbott (Armand), Edward Lexy (Carr's Orderly). Released: Grafton Films/Trafalgar Film Productions Ltd., December 1937 (UK). 84 minutes.
When Under Secret Orders begins, Parlo is in Germany, and it is just before the outbreak of World War I. She is a medical student who skips her final exam to go to Paris to meet Gyles Isham, a man she has fallen in love with. Although Isham hadn't expected her, she becomes useful to him. He takes her to see a performance by the Moscow Ballet at the Theatre Trianon. However, two French intelligence agents, Clifford Evans and John Abbott, are following him. During the intermission, a stolen document, with the "defense plans for the Channel coast," is passed to Isham. Knowing that he is being watched, Isham slips the document into Parlo's handbag and tells her to meet him at the Hotel Europe in Munich. Isham arrives first, but also at the hotel are John Loder, a lieutenant in the British War Office, and his orderly, Edward Lexy. Lexy breaks into Isham's room to search for the document. Isham suddenly enters to take a phone call from Berlin. Before Lexy can escape, he shoots Isham. At this moment Parlo arrives at the hotel, and she is devastated to learn that Isham has just been killed.
When Parlo hands over the document to a German colonel (Erich von Stroheim), she is still distraught about Isham's death. Weeping, she says bitterly, "I wish I knew who killed him…I'd go to the end of the world to find out." Von Stroheim is sure that "a foreign agent" committed the murder, but "there are thousands." Taking advantage of Parlo's desire for revenge, he gives two reasons why she should become a German agent. "First and foremost to serve your country. You have proved your ability to do so, amply so. You're attractive. You're resourceful. Secondly, you'd have more chance to run into the man you're looking for than in any other way."
Right afterwards Britain declares war on Germany. In three brief scenes, Parlo is shown operating among a range of social classes. After each scene a poster is shown in a different language (English, Italian and French) that says Parlo is wanted for espionage and her alias is "Mademoiselle Docteur." She is shot at; she survives a car wreck; and she evades a search for her. Before learning her next assignment, an officer says, "Germany is proud of you. You are by far the most successful of our agents. You have helped to destroy thousands of enemy lives…For your services, you have been promoted." She is sent to Salonika to find out Britain's troop plans so that Germany can prevent the fall of Constantinople. She is to be a Baroness, serving in the Swedish Red Cross. Von Stroheim is also in Salonika, where he is in charge of Germany's spies.
A femme fatale not only commits bad deeds, she is also alluring to (and may even cause the destruction of) a good man. Dita Parlo is nearly quintessential as this kind of femme fatale. En route to Salonika she runs into John Loder, and he immediately falls for her. He is so deceived – so smitten – that he tells Parlo about British troop movements, the very kind of classified military information it is her job to obtain. He regrets that when he leaves with his regiment he will be separated from her. He tells her he loves her. She tells von Stroheim what she learned from Loder about the troop movements. He says, "Our airforce will deal with them before they leave Salonika." At first she balks at making copies of the British plans that are in Loder's room. However, von Stroheim overcomes her resistance by making an association between Loder and Isham's death. After she photographs the plans, she steps outside of Loder's hotel room just before he returns. They go inside and talk. Without intending to find out anything in particular, she asks him if he has any secrets in his life. And, unaware of the significance in telling her, he says that although he didn't kill a man in Munich before the war, he "felt responsible" for the man's death. As Loder proudly watches young British soldiers marching on the street below his hotel window, Parlo's face shows that their deaths will avenge the murder of the man she loved.
That night an officer tells Loder of "a worrying anonymous letter about the baroness, saying she is Mademoiselle Docteur." Loder replies, "That must be a joke…The Baroness – Mademoiselle Docteur. That's impossible." Notwithstanding his faith in her, Loder goes to a grand ball, hosted by Parlo, in order to question her. Before he can, however, he is handed a message that says documents have been found that "prove conclusively" the Baroness, alias Mademoiselle Docteur, is a member of the German Intelligence Service, and she is "acting under orders" of von Stroheim. At the same moment von Stroheim is warning Parlo that her identity has been discovered. Loder approaches Parlo and Von Stroheim and insists that she remain with him. Von Stroheim is arrested as he leaves the ball. Then there is the air raid, made possible by Parlo's deception of Loder. Afterwards we see a document that says a general court-martial found Parlo and von Stroheim "guilty of Espionage…It is the sentence of the court that both be shot to death before a firing squad." The last scene shows, via silhouettes, Parlo and von Stroheim's execution.
Until the very end Loder is love with an enemy agent, a femme fatale who may have died but who also successfully completed her mission, to have the British troops at Salonika bombarded by German planes.
Addendum I: Mademoiselle Docteur and Under Secret Orders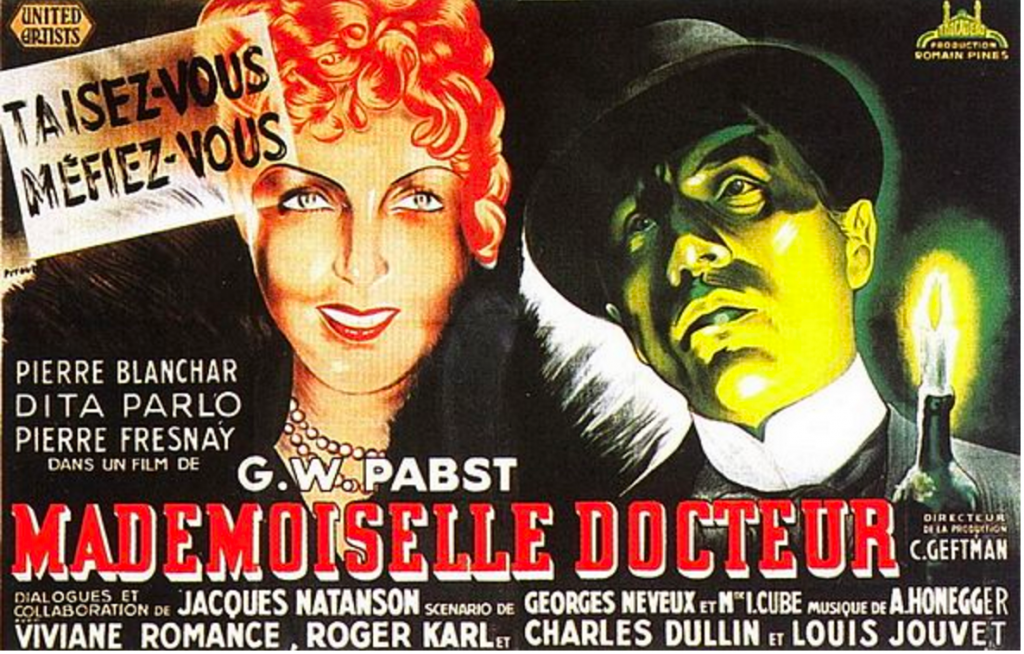 Mademoiselle Docteur has not been cited in any reference book as a French film noir. However, Pabst's version boasts at least as strong a noir visual style as Gréville's.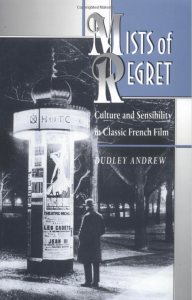 In his landmark history and analysis of French poetic realism, Mists of Regret: Culture and Sensibility in Classic French Film (Princeton University Press, 1995), Dudley Andrews says:
"Regardless of the quality of their work…[émigré] German directors as a group bore a haughty self-confident mien that French producers respected. The successfully asked for larger budgets, for extended production schedules, and for more professional working conditions than was customary in the French industry because producers thought them as proven thoroughbreds…
"When their films were organized by German producers like Eric Pommer or Constantin Geftman, a vague large-scale "movie look" results. Pabst's Mademoiselle Docteur is such a case, draped in sets and costumes (designed respectively by Georges Annenkov and Serge Piménoff) clearly tagged "international style." But the film also exhibits an exceptional precision of editing. Its plot complications and chase structure would have been beyond the capability of all French directors, except perhaps Julien Duvivier. Scenes are juggled for their interrelated rhythms and each scene in itself is broken down in a fine decoupage, showing us fleeting glances, hidden objects, and quick facial reactions. Pabst actively involves the exotic city of Salonika and employs a host of props common to spy films but uncommon in French cinema. In fact, this facility, together with Eugen Schüfftan's carefully mottled lighting and the self-defining behavior of so many star actors (Dita Parlo, flanked by Louis Jouvet, Pierre Fresnay, Pierre Blanchar, Jean-Louis Barrault, Viviane Romance, and Charles Dullin), makes this an impressive but impersonal showpiece. That is quickly reappeared in an American and then a British version suggests the transportability of its theme and look." (174)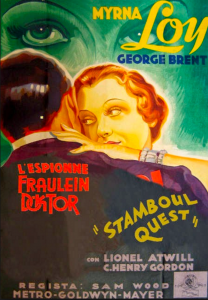 Note that in the Andrews' last sentence he says that an American version followed the French. This isn't true. The first spy film based on Elsbeth Schragmüller came from Hollywood three years earlier, in 1934, as Stamboul Quest. It was directed by Sam Wood and starred Myrna Loy, George Brent and Lionel Atwill. Like Mademoiselle Docteur (but unlike Under Secret Orders), the lead writers were Leo Birinsky and Herman J. Mankiewicz. The cinematographer was James Wong Howe. (I compare Mademoiselle Docteur with Stamboul Quest in Appendix II below.)
Although the noir visual style in Mademoiselle Docteur compares very favorably with that in Under Secret Orders, there are several deficiencies in its plot.
In contrast with Under Secret Orders, there is no backstory that explains why Parlo became a spy or why she is called Mademoiselle Docteur. From the start of the film she is a German agent. In one scene a man says Parlo is "another Mademoiselle Docteur." Later, upon hearing that an anonymous woman has denounced Parlo as Mademoiselle Docteur, a French officer says, "Another one? That's the fourth woman in Salonika said to be Mademoiselle Docteur." The film never establishes the appropriateness of its title.
In Mademoiselle Docteur the emotion paired with love is jealousy, whereas in Under Secret Orders it is revenge. Parlo's great love for Gyles Isham becomes, after his death, an obsession for vengeance against British soldiers in general and whomever was responsible for Isham's murder in particular. In Under Secret Orders, Parlo is a femme fatale, which she isn't in Mademoiselle Docteur. This is because Parlo falls for the French officer (Pierre Fresnay) that she is supposed to deceive and betray. Consequently, in a couple of scenes she shows that she doesn't want Fresnay's documents about Allied troop movements to be handed over to the Germans. When she is about to photograph the documents that she expects to find inside a folder in Fresnay's desk drawer, she smiles happily to see that the folder is empty. A double-agent (Pierre Blanchar), who had already stolen Fresnay's documents, refuses Parlo's demands to give her the papers because he knows she will return them to Fresnay. Blanchar says to Parlo, "What were you thinking, getting involved with the enemy? Even if he were German, you know the rules for people like us. Love is forbidden for agents. Stop! You're a monster! We are monsters." (Blanchar's last sentence is an admission that he, too, has broken the rules for agents by falling in love with Parlo. When he declares his feelings for her, she rebuffs him.) And in another instance of unrequited love, a cabaret singer (Viviane Romance) is so jealous of Blanchar's desire for Parlo that she warns him she is "capable of anything." This triangle (Romance – Blanchar – Parlo) doesn't exist in Under Secret Orders. In the British version, Gaby (Claire Luce) at first worries that her boyfriend (Clifford Evans) may be attracted to Parlo, but he quickly convinces her otherwise (with sex).
The ending is quite prolonged and ultimately anti-climatic. Instead of being arrested and executed (as is the double-agent, Blanchar), Parlo escapes in a stolen car. She is chased by Fresnay, who shoots out one of her tires, causing her car to wreck and explode in flames. Fresnay assumes she has been killed, but instead she survives and gets away. The film continues with footage of planes dropping bombs, and tanks, infantrymen and ships firing guns until it is announced that World War I is over. A document indicates Parlo has voluntarily checked into an institution because of mental illness. In the final scene the head of the German secret service (Charles Dullin), who had recruited Parlo for the assignment in Salonika, visits the asylum. Parlo seems to recognize him. Mademoiselle Docteur ends with a close-up of Parlo: her lips are moving but no sounds are heard. If this conclusion has any meaning, I don't grasp it.
One way the plot of Mademoiselle Docteur is stronger and clearer than Under Secret Orders is that it shows Gaby (Viviane Romance), because of her jealousy of Blanchar's love for Parlo, telephoning the French military command at Salonika to denounce Parlo as a spy. In Under Secret Orders a British officer at Salonika hands John Loder an unsigned letter that denounces Parlo, and after he reads it, he says, "The writer certainly seems to know what he's talking about." Whereas in Under Secret Orders, Gaby (Claire Luce) disappears from the plot, as soon as Romance confess her betrayal of Parlo to her leader, the German spymaster in Salonika (Louis Jouvet), he shoots her dead.
One way the plot of Mademoiselle Docteur is baffling pertains to the denouement of Pierre Blanchar, the double-agent. From the beginning of the film he has helped the French in return for his liberty after being arrested in Paris as a German agent. He is sent to Salonika, where he joins the German spy ring led by Louis Jouvet. We learn that in one month Blanchar has betrayed six German agents to the French authorities. Furthermore, Jouvet decodes a message that says Blanchar is a double-agent, which means he is working against the Germans on behalf of the French. Yet the French arrest him, and no reason is given for this. To speculate about why this happens, which would show the weakness of the film's plotting, is that in the scene where the French police and Fresnay question Blanchar, Fresnay learns that Parlo is the woman who has been visiting Blanchar in a room where he was known to conduct, ahem, his affairs. This convinces Fresnay that Parlo is a German agent.
Under Secret Orders avoids such a plot problem – a double-agent arrested by the police of the very country he is serving! Instead, after John Loder receives an anonymous letter that denounces Parlo, he sends several British policemen to bring in Gaby's lover (Clifford Evans). Loder says Evans "can clear this up" because "he's worked for me before." Loder is unware Evans is a double-agent, who is most loyal to Germany because, as Von Stroheim has told him, Germany pays the most money. The policemen don't arrest Evans; they just want him to come with them to headquarters to see Loder. However, Evans pulls a gun and tries to escape. In a shootout on a street so dark the different figures can barely be made out, Evans is killed.
Although it isn't shown, the police find documents on Evans that "prove conclusively" Parlo is Mademoiselle Docteur. We learn this later when Loder sees the documents. Parlo's exposure to the officer who has loved her via a scene involving the double-agent is much more satisfying and logical in Under Secret Orders. Furthermore, whereas her exposure occurs in the dull scene in Blanchar's room in Mademoiselle Docteur, the shootout in Under Secret Orders is one of the best scenes of the noir visual style in either film.
Addendum II: Mademoiselle Docteur and Stamboul Quest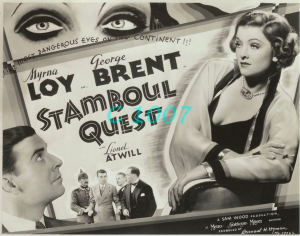 Something to consider is that the perplexing conclusion of Mademoiselle Docteur may be associated with the film's origins in Stamboul Quest. As noted above, like Mademoiselle Docteur (but unlike Under Secret Orders), the lead writers for Stamboul Quest were Leo Birinsky and Herman J. Mankiewicz.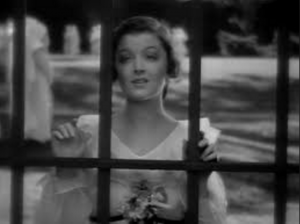 The story begins with Myrna Loy (Annemarie, aka Fräulein Doktor) at a monastery, where she is under the care (and supervision) of nuns. She seems to have a delusion that a man is coming to see her. She stands behind tall bars of a gated entrance, watching for his arrival.
The scene dissolves to 1915, and the backstory explaining why Loy is mentally ill unfolds in a flashback, without any voice-over. At the film's climax in Stamboul (Istanbul/Constantinople), Loy's spymaster (Lionel Atwill) tells her that the innocent American she loves (George Brent) has been executed by a Turkish firing squad. As part of complicated scheme to prevent the Turkish commander for the Dardanelles (C. Henry Gordon) from selling out to the British, Atwill promises Loy that the commander, who loves her, will be deceived into thinking that his rival, Brent, has been put to death. A captured French spy will be killed instead. In fact, Atwill keeps his word and gets Brent safely out of Turkey. However, Atwill lies to Loy because he is sure that she will get over the loss of Brent and resume her espionage work. (As Atwill confides to a German officer, "It has been our unfortunate experience that when a spy's in love, her [sic] usefulness for us is gone. However, you don't have worry about, about her. She's a true patriot. A strong woman. She'll carry on.") Contrary to Atwill's prediction, Loy's reaction is to lose her mind.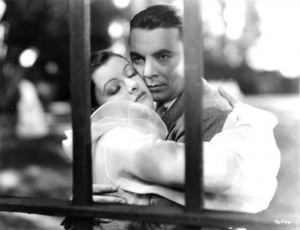 The flashback ends, and we return to Loy standing behind the barred gates. And here comes Brent in a horse-drawn carriage! He takes her in his arms and says, "I've hunted all over the whole world for you." Now Loy will be all right. The film is over.
In the screenplay for Mademoiselle Docteur, there are many changes from Stamboul Quest, such as having the female German spy fall in love with an enemy British officer instead of an innocent American. Nonetheless, what is most significantly the same in the written work for these two films by Birinsky and Mankiewicz is that the woman isn't a femme fatale. Her love for a man means more than dedication to espionage, just as Lionel Atwill fears. A different scriptwriter, Marcel Achard, continues the revisions in Under Secret Orders. The most notable one is making a woman become a spy because the man she loves is killed. Instead of losing her mind, the third Fräulein Doktor is committed to espionage as a means of fulfilling her quest to avenge her lover's murder. She is not only spy noir's first femme fatale but also international film noir's.
Addendum III: Is Winna Winifried a femme fatale in La Nuit du carrefour (Night at the Crossroads, 1932)?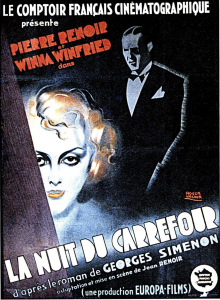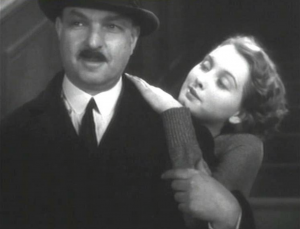 Winna Winifried and Pierre Renoir (as Inspector Maigret)
On October 11, 2017, I sent an email to French film noir historian Don Malcolm with two questions:
"First, am I right to say that Mademoiselle Docteur (July 1937) is the first French spy noir?
"Second, am I right to say that Dita Parlo's character in Under Secret Orders (December 1937) is the first femme fatale in film noir?"
On October 12, 2017, Don replied:
"As far as I can tell at this point, you are right about MADEMOISELLE DOCTEUR.
"As for femmes fatales, however, they are to be found at the dawn of French noir with Renoir's Simenon adaptation LA NUIT DU CARREFOUR (1932) and Maurice Tourneur's AU NOM DE LA LOI (1933). One can quibble about the latter, as Marcella Chantal's character has a change of heart after falling in love with an innocent but doomed young boy while on the run, but she's plenty bad prior to that…"
On October 17, 2017, regarding Winna Winnifried, I wrote Don to say:
"The Danish 'sister' was involved in crime, and she behaves somewhat seductively with Maigret, but she's not a femme fatale by any means."
Our exchange ended on October 21, 2017, with this response from Don:
"Guess we will need to agree to disagree on Winna Winifried – [in what follows, Don refers to his "Noir-O-Meter, which is presented in the page Repeat Performance and Noir-O-Meter] the score in 'homme/femme fatal(e) or other peril-inducing characters' for LA NUIT DU CARREFOUR is 8. She is problematic because she is unstable in addition to holding back guilty knowledge. Maigret is smitten with her despite her damaged nature (Maigret as dirty old man…) and looks to be making plans for something more than a "mentor-protégée" relationship (if you catch my drift).
"The jury is definitely out regarding her potential for rehabilitation…which means that the peril, while dormant, has not been permanently resolved – an interesting open-endedness that's a refreshing change from the type of noir "structure" we see subsequently."
On November 30, 2017, while I was writing the sections on Poetic Realism and French Film Noir under the topic France in the page Internationalism of Crime Film/Film Noir: 1923 – 1963, I saw the evaluation of Winna Winifried as a femme fatale by another French film noir historian, Ginette Vincendeau. It is in her essay, "French film noir," in the anthology edited by Andrew Spicer, European Film Noir (Manchester University Press, 2007). Vincendeau agrees with me that the Winifried isn't a femme fatale. She says:
"In their representation of gender, La Nuit du carrefour and La tête d'un homme also set precedents. In La tête d'un homme, Radek appears obsessed with both the rich Edna (silent star Gina Manès), and a singer who lives in his hotel, played by famous chanteuse Damia. In La Nuit du carrefour all men are attracted to a beautiful Danish 'aristocrat' who lives in the mansion with her 'brother.' Both women potentially inhabit the role of the femme fatale as they directly or indirectly lead men to their demise. Yet Edna is a minor character played by an aging star, while the 'aristocrat' turns out to be a prostitute who has slept with the whole village. Both are too marginal to qualify for the label femme fatale; they simply echo the men's anxiety and failure." (26)
Appendix IV: Elsbeth Schragmüller (aka Fräulein Doktor and Mademoiselle Docteur)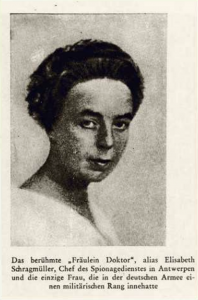 The following information is provided by Wikipedia.
Elsbeth Schragmüller was born on August 7, 1887, in Schlüsselburg, Kingdom of Prussia, German Empire and died on February 24, 1940, in Munich, Bavaria, Nazi Germany. She was a German spy during World War I. For many years she was invariably known as Mademoiselle Docteur or Fräulein Doktor, her actual name being revealed only in 1945 from German intelligence documents captured by the Allies after World War II, by which time she had already died of miliary tuberculosis in 1940. Her nickname acknowledges the fact that she had a doctoral degree in political science from the University of Freiburg, being one of the first generation of German women to gain an academic degree.
After the outbreak of the First World War, Schragmüller moved to occupied Belgium, where the German Governor General, Colmar von der Goltz, assigned her to Section VII, where she opened and intercepted letters. She later switched to intelligence collection and worked, after a short training period, in Lille for the General Staff's intelligence wing, or Abteilung IIIb. In 1915, Colonel Walter Nicolai, the head of Abteilung IIIb, assigned her as the chief of the Kriegsnachrichten Antwerpen. By the war's end, Schragmüller held the rank of lieutenant and had been awarded the Iron Cross First Class.
After the armistice in 1918, Schragmüller resumed her academic career and became the first female assistant chair at Freiburg University. A few years later, she moved with her family to Munich. Soon after, her father and her brother Konrad, a senior SA officer, were shot during the Night of the Long Knives. Shortly afterward, Elspeth ended her career abruptly for unknown reasons.
According to Myrna Loy's autobiography, Being and Becoming (1987), the studio (MGM) was particularly careful about how the script portrayed Fräulein Doktor in Stamboul Quest, since at the time the film was made she was still alive, a drug addict, living in a sanatorium in Switzerland, and they were concerned about being sued for libel.
Although the exploits of Fräulein Doktor are not well known, and have been overshadowed by those of Mata Hari, it was possibly Fräulein Doktor who exposed Mata Hari, resulting in the latter facing a French firing squad for espionage. Because Schragmüller was neither captured nor unmasked during her lifetime, much of her life story remains obscure and speculative, and it is unclear to what extent the various fictional treatments of her life story are accurate.
In addition to Stamboul Quest (1934), Mademoiselle Docteur (1937) and Under Secret Orders (1937), Elsbeth Schragmüller is a character in Fräulein Doktor (1969, an Italian/Yugoslavian co-production) and Mata Hari (1985, US, directed by Curtis Harrington, with Gaye Brown as Fräulein Doctor).