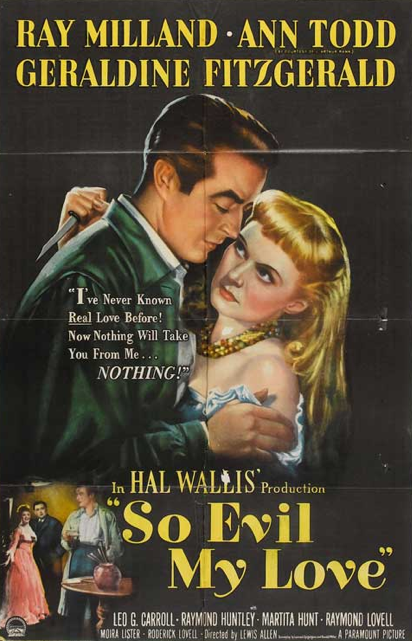 Director: Lewis Allen. Screenplay: Ronald Miller, Joseph Shearing, Leonard Spigelgass based on the novel by Joseph Shearing. Producer: Hal Wallis. Director of Photography: Max Greene. Music: William Alwyn, Victor Young. Art Director: Thomas N. Morahan. Editors: Vera Campbell, Leonard Trumm. Costume Designer: Sophie Harris. Cast: Ray Milland (Mark Bellis), Ann Todd (Olivia Harwood), Geraldine Fitzgerald (Susan Courtney), Leo G. Carroll (Jarvis), Raymond Huntley (Henry Courtney), Raymond Lovell (Edgar Bellamy), Martita Hunt (Mrs. Courtney), Moira Lister (Kitty Feathers), Roderick Lovell (Sir John Curle), Muriel Aked (Miss Shoebridge), Finlay Currie (Dr. Krylie), Maureen Delaney (Curtis), Ivor Barnard (Mr. Watson), Ernest Jay (Smathers), Hugh Griffith (Coroner), Zena Marshall (Lisette), Eliot Makeham (Joe Helliwell), Guy Le Feuvre (Dr. Pound), Vincent Holman (Rogers), Chris Halward (Alice), John Wilder (Footman), Leonie Lamartine (Café proprietress), Clarnece Rigge (Dr. Cunningham). Released: Paramount British Pictures, July 21, 1948. 112 minutes.
Plot Summary
On a voyage from Jamaica to England, Olivia, a prim and proper widow of a missionary, meets Mark, a smooth-talking jack-of-all-crimes. She takes him in as a boarder and falls in love with him. She believes Mark loves her, too. In fact, his heart is ice, and he has a girlfriend, Kitty, for amusement. Desperate for money, he insists Olivia carry out a blackmail scheme. Olivia's only friend, Susan, is in a miserable marriage to Henry. He is as odious as wealthy. Olivia has scandalous letters from Susan, for which she expects Henry will pay dearly. But Henry turns the tables and shows her a detailed report about Mark's criminal record that he is going to send the police. Olivia lunges at him, and he has a heart seizure. After substituting poison for his medicine, Olivia has Susan give Henry the fatal dose. Susan is convicted of murder. Mark finally admits to himself that he loves Olivia. Just before they sail to America and leave Susan to her fate, Olivia runs into Kitty, who reveals her affair with Mark. For his betrayal, Olivia stabs Mark. Then she goes to a police station to confess.
Commentary
Since So Evil My Love has too much running time and too little noir visual style, what is there to recommend it? First, from the three actors whose names are above the title (Milland, Todd and Fitzgerald) to the other twenty listed afterward, all performances are strong. Second, the characters they play inhabit a noir world that is one of the most chilling in the classic period.
Mark is out to get money by any crime necessary, including murder. He is smug that he isn't able to love. Effortlessly, he keeps Kitty on a string as his backstreet girl and makes Olivia believe they are sharing a magical romance.
Henry, another homme fatale, would rather Susan suffer thinking she is barren than tell her that he may be impotent. His desperation to sire a son has made him ill. His mother, who cruelly told Susan that her failure to produce an heir is the cause of Henry's sickness, agrees with him that Susan shouldn't know the truth.
One of the doctors Susan consulted about her fertility suggested that sherry might have "a tonic effect." As she hasn't gotten pregnant, she has increased her drinking. Alone all the time, except for her sneering husband and domineering mother-in-law, Susan's become alcoholic and mentally unstable.
Yet it is Susan's best friend, Olivia, who is her worst enemy. Olivia starts out simply enjoying how she deceives Susan, such as by cheating Susan out of her bonds, which Mark cashes. Breaking her promise to destroy Susan's confidential letters, Olivia is euphoric to have "the whip hand" and be "utterly in command" in blackmailing Henry for the letters. After Henry's seizure, she rapidly figures out how to poison him and have Susan take the blame.
When Olivia visits Susan at a prison hospital, Susan has given up on life. She had vehemently opposed Henry's intention to place her in a sanatorium. Now she thinks he was right. While Olivia holds her hand, Susan wishes for her execution to come soon. At first, Olivia is deeply troubled by Susan's plight and considers admitting to Henry's murder. However, Mark clears her conscience by predicting Susan won't be hanged but institutionalized. If Susan's fortunate, Olivia may accomplish what Henry didn't.
Of course, Olivia well knows Susan isn't insane. Yet at least she can leave England with the prospect that Susan won't die because of her; she will just waste away. Her coldness toward Susan is exceeded with Mark. As they ride in a hansom cab, he tells her how much he loves her and begs her forgiveness for the things he has done. It is too late. His heart of ice may have melted for her, but Olivia's has frozen for him. Although his affair with Kitty is over, the former missionary has lost the ability to forgive.