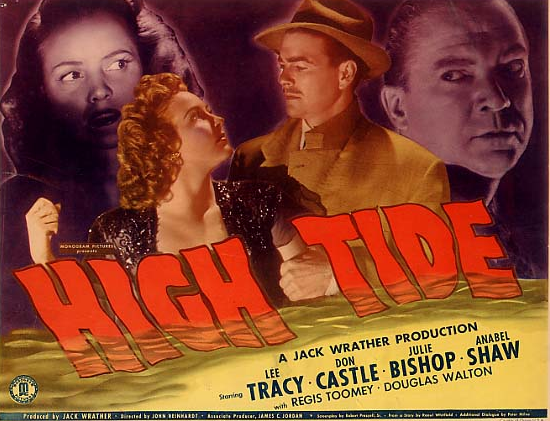 Director: John Reinhardt. Screenplay: Robert Presnell Sr. based on the story "Inside Job" by Raoul Whitfield, with additional dialogue by Peter Milne. Producer: Jack Wrather. Associate Producer: James C. Jordan. Director of Photography: Henry Sharp. Music: Rudy Schrager. Art Dircetor: Lewis C. Creber. Editor: Stewart S. Frye, William H. Ziegler. Cast: Lee Tracy (Hugh Fresney), Don Castle (Tim Slade), Julie Bishop (Julie Vaughn), Anabel Shaw (Dana Jones), Douglas Walton (Clinton Vaughn), Regis Toomey (Inspector O'Haffey), Francis Ford (Pop Garrow), Anthony Wade (Nick Dyke), Argentina Brunetti (Mrs. Cresser), Wilson Wood (Cleve Collins), George H. Ryland [George Ryland] (Doctor at Shooting Scene). Released: Monogram, September 13, 1947. 72 minutes.
Plot Summary
Fresney, an unscrupulous newspaper editor, has a broken back and can't get out of his car. Slade, a private detective, has a leg caught under it. The car is stuck on a beach at the waterline, and the tide is coming in. Fade to flashback. Fresney hires Slade under the pretext of finding out who wants to kill him. In fact, Fresney intends to use Slade as "an alibi and a fall guy." Vaughn, the paper's publisher, has Garrow secretly investigating Fresney and Dyke, the local crime boss. Dyke's men kill Garrow, but only Slade knows where Garrow hid the information he gathered. Fresney first murders Vaughn and then betrays his silent partner, Dyke. As Fresney speeds along a coastal highway, Slade tells him that Garrow discovered Fresney planned to "get control of the paper" so he and Dyke could "run the town and all the rackets." He also says Dana gave Garrow's information to Inspector O'Haffey. Fresney is beaten but not yet finished. He drives his car over a cliff above the beach to try to kill Slade as well as himself. The flashback ends. In the last scene Slade climbs up the cliff.
Commentary
Nearly every book or article about film noir treats the private detective as one of the icons and character prototypes of the classic period. In fact, the private investigator is rarely the main man in any film noir. In contrast, for example, the woman-in-distress is unmentioned in most published work, although she is the key character in many film noirs. Discussions of detective film noirs focus on the private eye character – challenged by a femme fatale, a corrupt world and a convoluted plot – and relate him to issues such as masculine identity and possession of or lack of control (over his client, the case or even language).
As a rule, these discussions do not address the extent to which a detective film is inherently limited as noir because the protagonist's attributes are heroism, moral integrity and so on. Moreover, these discussions ignore a critical recurring character, the "criminal client." He or she hires the PI, but also kills other people or has them murdered, and imperils the shamus himself. Brigid O'Shaughnessy is the criminal client in the first detective film noir (The Maltese Falcon). Other examples include Velma/Mrs. Grayle (Murder, My Sweet), Hardy Cathcart (The Dark Corner), Mrs. Murdock (The Brasher Doubloon), Whit Sterling (Out of the Past), Ralph Johnston (I Love Trouble), and Hugh Fresney (High Tide). In The Dark Corner there are two private dicks. After Cathcart has one of them, Stauffer ("White Suit"), commit murder to frame the other, Bradford Gault, Cathcart kills Stauffer. In such films the criminal client's motives for retaining and then turning against the gumshoe are the raison d'être for making the story noir.
There are two special strong points in High Tide. First, it is almost completely nocturnal. Apart from a couple of scenes on the morning when Vaughn's corpse is found, every other scene occurs after dark.
Second, Fresney and Julie – memorably played by Lee Tracy and Julie Bishop – are characters straight out of the best pages in hardboiled crime fiction, some of which were written by Raoul Whitfield, the author of the story on which High Tide is based. Fresney is as scheming and venal as they come. Julie, cracking wise between sips of anything-on-the-rocks, is obsessed with, Slade, the man she did not marry.
These strengths in the film, however, are associated with notable weaknesses. Except for the brief scene of Vaughn's murder, a strong noir visual style is missing. Julie and Fresney, furthermore, begin tough but finish soft.
Early on Julie tries to arouse Slade, her ex-boyfriend, and she could care less that her husband is watching. She only married Vaughn for his money. When he worries someone wants to kill him, she quips, "I'm rather looking forward to being a rich widow." Yet by nightfall after he is dead, Julie is "pretty broken up" about it.
At the start of the film, Fresney wants Slade to drown with him. At the end, Fresney saves Slade's life. Both Julie and Fresney get watered down for the same reason, so that Dana and Slade can become a romantic couple.
No matter how much a PI is drugged and slugged, he survives and solves the mystery. Then, at least in hardboiled fiction, he finds himself alone. But in the typical detective film noir, like High Tide, he and a beautiful young woman find love.
Postscript
For a full list of private eye film noirs with a killer client, see the page The Killer Client & the PI.
For a full list of private eye film noirs in which the detective gets a girlfriend, see the page The Sweetheart & the PI.